Food Industry
Electrical-Insulating

Grease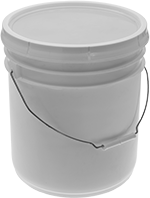 Use this grease in areas where there is the possibility of contact with food. Also known as dielectric grease, it lubricates and protects electrical systems. It resists water and corrosion. This grease can be used on most rubber and plastic.
NLGI viscosity grade is a rating of a grease's consistency. NLGI 1 is about the consistency of tomato paste. NLGI 2 is about the consistency of peanut butter. Dielectric strength measures the maximum voltage a grease can withstand without losing its insulating properties. The higher the dielectric strength, the better its quality as an insulator.
Grease that is NSF Registered H1 and grease that meets FDA Compliant 21 CFR 178.3570 are rated for incidental contact with food. Grease that meets NSF/ANSI 51 and FDA Compliant 21 CFR 175.300 are rated for direct contact with food. Grease that meets NSF/ANSI 61 is certified for use with components that come into contact with drinking water.
Grease lubricates most efficiently below the maximum temperature. Nonmelting grease can be used at temperatures above the maximum temperature briefly, but then will break down more quickly.
DuPont Molykote 4 Electrical Insulating Compound also acts as a moisture barrier.
Each
NLGI
Viscosity
Grade
Base
Oil
Additive

Size,




fl.




oz.

Net


Weight,




lbs.

Type

Temp.




Range,




°F

Dielectric


Strength,




V/mil

Color
Specifications
Met
Each

DuPont Molykote 4 Electrical Insulating

Compound—

Silica Thickener

1
Synthetic
__
__
8
Pail
-40° to 400°
450
White
SAE AS8660, FDA Compliant 21 CFR 175.300, NSF/ANSI 61, NSF/ANSI 51
0000000
0000000
1
Synthetic
__
5.3
__
Tube
-40° to 400°
450
White
SAE AS8660, FDA Compliant 21 CFR 175.300, NSF/ANSI 61, NSF/ANSI 51
0000000
00000

Silica Thickener

1
Synthetic
Silicone
1
__
Tube
-40° to 400°
350
Clear
NSF Registered H1

0000000
0000
1
Synthetic
Silicone
4
__
Tube
-40° to 400°
350
Clear
NSF Registered H1

0000000
00000

Nonmelting Grease without Thickener

2
Synthetic
Silicone
3
__
Tube
-40° to 500°
400
White
FDA Compliant 21 CFR 178.3570, NSF Registered H1
0000000
00000
2
Synthetic
Silicone
14.1
__
Grease Gun Cartridge
-40° to 500°
400
White
FDA Compliant 21 CFR 178.3570, NSF Registered H1
0000000
00000
Package
NLGI
Viscosity
Grade
Base
Oil
Additive

Size,




fl.




oz.

Type

Temp.




Range,




°F

Dielectric


Strength,




V/mil

Color
Specifications
Met

Pkg.




Qty.

Pkg.

DuPont Molykote 4 Electrical Insulating

Compound—

Silica Thickener

1
Synthetic
__
5.3
Tube
-40° to 400°
450
White
SAE AS8660, FDA Compliant 21 CFR 175.300, NSF/ANSI 61, NSF/ANSI 51
12
00000000
0000000

Silica Thickener

1
Synthetic
Silicone
4
Tube
-40° to 400°
350
Clear
NSF Registered H1

12
00000000
000000

Nonmelting Grease without Thickener

2
Synthetic
Silicone
3
Tube
-40° to 500°
400
White
FDA Compliant 21 CFR 178.3570, NSF Registered H1
12
0000000
000000
2
Synthetic
Silicone
14.1
Grease Gun Cartridge
-40° to 500°
400
White
FDA Compliant 21 CFR 178.3570, NSF Registered H1
12
0000000
000000