Food Industry Open Gear and Chain Grease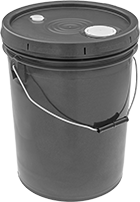 For use in food-processing and preparation areas, this grease is NSF registered H1 or meets FDA Compliant 21 CFR 178.3570 for incidental contact with food. It's tacky to stick to open gears and roller chain.
NLGI viscosity grade is a rating of a grease's consistency. NLGI 2 is about the consistency of peanut butter. NLGI 3 is about the consistency of vegetable shortening.
Mineral-oil-based grease, derived from petroleum, is more economical than synthetic-oil-based grease. It has aluminum thickener, which provides excellent oxidation resistance and good moisture resistance. Synthetic-oil-based grease has longer-lasting performance than mineral-oil-based grease. Made with PTFE thickener, it has excellent heat and moisture resistance. It is best for low-speed, high-torque gears and chain.
Grease lubricates most efficiently within the listed temperature range. Melting temperature is the point at which grease will fail and run out of equipment, leaving it to run dry. Nonmelting grease can be used at temperatures above the maximum temperature briefly, but then will break down more quickly.
Each
NLGI
Viscosity
Grade
Base
Oil
Additive

Size,




fl.




oz.

Net


Weight,




lbs.

Type

Temp.




Range,




°F

Melting


Temp.,




°F

Color
Specifications
Met
Each

Aluminum Thickener

2
Mineral
__
__
35
Pail
0° to 350°
500°
Clear
NSF Registered H1

0000000
0000000
2
Mineral
__
14
__
Grease Gun Cartridge
0° to 350°
500°
Clear
NSF Registered H1

0000000
00000

PTFE Thickener

3
Synthetic
PTFE
19
__
Grease Gun Cartridge
-58° to 300°
Nonmelting
White
FDA Compliant 21 CFR 178.3570, NSF Registered H1
0000000
00000
Package
NLGI
Viscosity
Grade
Base
Oil
Additive

Size,




fl.




oz.

Type

Temp.




Range,




°F

Melting


Temp.,




°F

Color
Specifications
Met

Pkg.




Qty.

Pkg.

Aluminum Thickener

2
Mineral
__
14
Grease Gun Cartridge
0° to 350°
500°
Clear
NSF Registered H1

10
00000000
0000000

PTFE Thickener

3
Synthetic
PTFE
19
Grease Gun Cartridge
-58° to 300°
Nonmelting
White
FDA Compliant 21 CFR 178.3570, NSF Registered H1
10
0000000
000000