Food Industry Penetrating Lubricants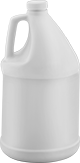 For use in food-processing and preparation areas, these thin, multipurpose lubricants are NSF registered H1 for incidental food contact. Use them to cut through dirt, grease, and rust, loosen stuck fasteners, and protect tools and equipment.
Lubricants with silicone are clear, have excellent water resistance, and can be used on rubber. Not for use on painted surfaces. Lubricants with PTFE provide long-lasting lubrication.
Lubricants cannot be sold to the listed areas due to product regulations.
Each
Size
Net
Weight
Type
Additive

Temp.




Range,

°F

Specifications Met
Cannot Be
Sold To
Each

Sprayon LU 210 Food Grade Dry Silicone

__
10 oz.
Aerosol Can
Silicone
-40° to 450°
NSF Registered H1

__
0000000
000000

Sprayon LU 700 Food Grade Machinery

__
10 oz.
Aerosol Can
__
20° to 450°
NSF Registered H1

__
0000000
00000

Lubricants

1/4

fl. oz.
__
Tube
PTFE
-45° to 450°
NSF Registered H1

__
0000000
0000
4 fl. oz.
__
Squeeze Bottle
PTFE
-45° to 450°
NSF Registered H1

__
0000000
0000
__
11 oz.
Aerosol Can
Silicone
-55° to 390°
NSF Registered H1

CA, NY
0000000
00000
1 gal.
__
Jug
PTFE
-45° to 450°
NSF Registered H1

__
0000000
000000
Package
Size
Net
Weight
Type
Additive

Temp.




Range,

°F

Specifications
Met
Cannot
Be
Sold To

Pkg.




Qty.

Pkg.

Sprayon LU 210 Food Grade Dry Silicone

__
10 oz.
Aerosol Can
Silicone
-40° to 450°
NSF Registered H1

__
12
0000000
0000000

Sprayon LU 700 Food Grade Machinery

__
10 oz.
Aerosol Can
__
20° to 450°
NSF Registered H1

__
12
00000000
000000

Lubricants

1/4

fl. oz.
__
Tube
PTFE
-45° to 450°
NSF Registered H1

__
12
00000000
00000
4 fl. oz.
__
Squeeze Bottle
PTFE
-45° to 450°
NSF Registered H1

__
6
00000000
00000
__
11 oz.
Aerosol Can
Silicone
-55° to 390°
NSF Registered H1

CA, NY
12
00000000
000000
1 gal.
__
Jug
PTFE
-45° to 450°
NSF Registered H1

__
4
00000000
000000