Gear Box Grease for Leaky Gear Boxes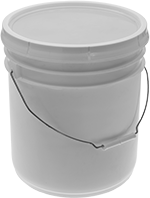 Able to stop leaks by forming a solid coating on the inside of gear boxes, this grease still flows through and lubricates gears while in use. It can lubricate under heavy loads. The lithium thickener offers good heat and moisture resistance.
NLGI viscosity grade is a rating of a grease's consistency. NLGI 0 is about the consistency of brown mustard.
Grease lubricates most efficiently within the listed temperature range. Melting temperature is the point at which grease will fail and run out of equipment, leaving it to run dry.
NLGI Viscosity
Grade
Base Oil
Net

Weight,




lbs.

Type

Temp.




Range,

°F

Melting


Temp.,

°F

Color
Each

Lithium Thickener

0
Synthetic
35
Pail
-20° to 275°
380°
Brown
000000
0000000