General Purpose Electrical Cleaners and Sealants

Aerosol Can

Squeeze Bottle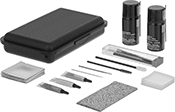 Kit
Designed to be used together to improve the performance of electrical connections, cleaners remove oxidation and corrosion on connections while sealants coat them to prevent oxidation and corrosion.
Cleaners provide long-lasting protection for all metal surfaces. Sealants for metal surfaces protect electrical contacts and connections in high humidity, corrosive, and salty environments. Sealants for gold surfaces improve conductivity and provide lasting protection.
Kits come with cleaner, sealant for gold surfaces, and lubricant for plastic surfaces. The lubricant restores lubrication that's been lost from cleaning. These kits also include cloths, brushes, and swabs for application.