High-Pressure

Bearing Grease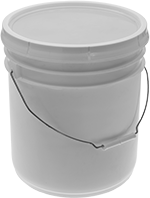 Lubricate the ball and roller bearings that support your highest loads, such as wheels and heavy equipment. Thickened with lithium, it has good heat and moisture resistance.
NLGI viscosity grade is a rating of a grease's consistency. NLGI 1 is about the consistency of tomato paste. NLGI 2 is about the consistency of peanut butter.
Weld load measures a grease's ability to withstand pressure in kilograms of force (kgf). The higher the rating, the more pressure the grease can withstand.
Grease with moly (molybdenum disulfide) has excellent resistance to wear and can withstand high-load and high-pressure applications.
Grease lubricates most efficiently within the listed temperature range. Melting temperature is the point at which grease will fail and run out of equipment, leaving it to run dry.
Shell Gadus S2 V220 also handles shock loads.
Each
NLGI
Viscosity
Grade
Base
Oil
Additive

Size,




fl.




oz.

Net


Weight,




lbs.

Type

Temp.




Range,




°F

Melting


Temp.,




°F

Weld


Load,


kgf
Color
Each

DuPont Molykote

BR-2

Plus High

Performance—

Lithium Thickener

2
Mineral
Moly
__
55
Pail
-20° to 265°
345°
365
Black
00000000
0000000
2
Mineral
Moly
14
__
Grease Gun Cartridge
-20° to 265°
345°
365
Black
00000000
00000

Shell Gadus S2

V220—

Lithium Thickener

2
Mineral
__
14
__
Grease Gun Cartridge
0° to 210°
355°
315
Brown
0000000
0000

Lithium Thickener

1
Semisynthetic
__
13
__
Grease Gun Cartridge
-40° to 300°
480°
325
Yellow
00000000
00000
Package
NLGI
Viscosity
Grade
Base
Oil
Additive

Size,




fl.




oz.

Type

Temp.




Range,




°F

Melting


Temp.,




°F

Weld


Load,


kgf
Color

Pkg.




Qty.

Pkg.

DuPont Molykote

BR-2

Plus High

Performance—

Lithium Thickener

2
Mineral
Moly
14
Grease Gun Cartridge
-20° to 265°
345°
365
Black
10
000000000
0000000

Shell Gadus S2

V220—

Lithium Thickener

2
Mineral
__
14
Grease Gun Cartridge
0° to 210°
355°
315
Brown
10
00000000
00000

Lithium Thickener

1
Semisynthetic
__
13
Grease Gun Cartridge
-40° to 300°
480°
325
Yellow
12
00000000
000000