Metal-Free

Antiseize Lubricants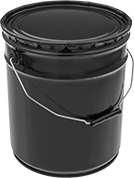 Free of metal particles, these lubricants won't react with stainless steel. Also known as thread lubricants, antiseize lubricants prevent threaded fasteners and close-fitting parts from locking together due to corrosion, contamination, or heat.
Lubricants with graphite have good chemical and corrosion resistance, along with excellent temperature resistance. Lubricants with moly (molybdenum disulfide) withstand high-pressure applications and have excellent wear resistance. Lubricants with zirconium have excellent corrosion resistance. Lubricants with calcium fluoride can be used with plastic, rubber, and other nonmetallic material.
DuPont Molykote P-37 Thread Paste won't drip out of connections, so it's good for use in areas where cleanliness is a concern.
Loctite® LB 8012 Moly Paste contains 65% moly. It fills in surface imperfections to reduce friction. Loctite® LB 8013 High Purity Anti-Seize is made of highly pure ingredients in a controlled environment for superior corrosion resistance.
Lubricants that meet MIL-PRF-907 have been tested to prevent corrosion of copper and for antiseize properties when used with steel nuts and studs. Lubricants that meet MIL-T-5544 are half graphite and half petroleum jelly. Lubricants that meet MIL-PRF-83483 are half moly and half petroleum jelly.
Each
Size,




fl.




oz.

Net


Weight,




lbs.

Type
Additive

Temp.




Range,




°F

Color
Specifications
Met
Compatible
With
Each

DuPont Molykote

P-37

Thread Paste

__
1
Brush-Top Can
Graphite, Moly, Zirconium
-20° to 2550°
Black
__
Stainless Steel
0000000
0000000

Loctite® LB 8009 Heavy Duty

Anti-Seize

__
45
Pail
Calcium Fluoride, Graphite
-20° to 2395°
Gray
__
Aluminum, Brass, Carbide, Cast Iron, Copper, Iron, Nickel, Stainless Steel, Steel, Titanium
00000000
00000000
1
__
Tube
Calcium Fluoride, Graphite
-20° to 2395°
Gray
__
Aluminum, Brass, Carbide, Cast Iron, Copper, Iron, Nickel, Stainless Steel, Steel, Titanium
0000000
00000
7
__
Brush-Top Tube
Calcium Fluoride, Graphite
-20° to 2395°
Gray
__
Aluminum, Brass, Carbide, Cast Iron, Copper, Iron, Nickel, Stainless Steel, Steel, Titanium
0000000
00000
9
__
Brush-Top Can
Calcium Fluoride, Graphite
-20° to 2395°
Gray
__
Aluminum, Brass, Carbide, Cast Iron, Copper, Iron, Nickel, Stainless Steel, Steel, Titanium
00000000
00000
18
__
Brush-Top Can
Calcium Fluoride, Graphite
-20° to 2395°
Gray
__
Aluminum, Brass, Carbide, Cast Iron, Copper, Iron, Nickel, Stainless Steel, Steel, Titanium
00000000
00000
35
__
Can
Calcium Fluoride, Graphite
-20° to 2395°
Gray
__
Aluminum, Brass, Carbide, Cast Iron, Copper, Iron, Nickel, Stainless Steel, Steel, Titanium
00000000
000000

Loctite® LB 8012 Moly Paste

__
1
Brush-Top Can
Moly
-20° to 750°
Black
__
Stainless Steel
00000000
00000
__
15
Can
Moly
-20° to 750°
Black
__
Stainless Steel
00000000
000000
8
__
Brush-Top Can
Moly
-20° to 750°
Black
__
Stainless Steel
0000000
00000

Loctite® LB 8013 High Purity

Anti-Seize

__
1
Brush-Top Can
Graphite
-20° to 2395°
Gray
__
Stainless Steel
00000000
000000
__
2
Can
Graphite
-20° to 2395°
Gray
__
Stainless Steel
00000000
000000
8
__
Brush-Top Can
Graphite
-20° to 2395°
Gray
__
Stainless Steel
0000000
00000

Loctite® LB 8504

Graphite 50

__
1
Can
Graphite
-20° to 900°
Black
__
Aluminum
00000000
00000

Lubricants

__
1
Can
Graphite
-65° to 840°
Black
MIL-T-5544
Stainless Steel
00000000
00000
__
1
Can
Moly
-20° to 745°
Gray
MIL-PRF-83483
Stainless Steel
00000000
00000
__
1
Brush-Top Can
Graphite
-295° to 2400°
Black
MIL-PRF-907
Stainless Steel
0000000
00000
8
__
Brush-Top Can
Graphite
-295° to 2400°
Black
MIL-PRF-907
Stainless Steel
0000000
00000
Package
Size,




fl.




oz.

Net


Weight,




lbs.

Type
Additive

Temp.




Range,




°F

Color
Specifications
Met
Compatible
With

Pkg.




Qty.

Pkg.

DuPont Molykote

P-37

Thread Paste

__
1
Brush-Top Can
Graphite, Moly, Zirconium
-20° to 2550°
Black
__
Stainless Steel
10
00000000
000000000

Loctite® LB 8009 Heavy Duty

Anti-Seize

7
__
Brush-Top Tube
Calcium Fluoride, Graphite
-20° to 2395°
Gray
__
Aluminum, Brass, Carbide, Cast Iron, Copper, Iron, Nickel, Stainless Steel, Steel, Titanium
12
0000000
000000

Lubricants

__
1
Can
Graphite
-65° to 840°
Black
MIL-T-5544
Stainless Steel
12
000000000
000000
__
1
Can
Moly
-20° to 745°
Gray
MIL-PRF-83483
Stainless Steel
12
000000000
000000
__
1
Brush-Top Can
Graphite
-295° to 2400°
Black
MIL-PRF-907
Stainless Steel
12
00000000
000000
8
__
Brush-Top Can
Graphite
-295° to 2400°
Black
MIL-PRF-907
Stainless Steel
12
00000000
000000