About Selecting a Vibrator
Adjustable-Force

Electric Vibrators for Dry Materials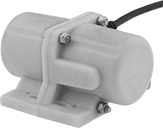 Nylon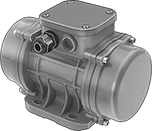 Aluminum
Change force output for different materials in your bin. These vibrators come set at a force. Adjust the force by changing the position of the weight within the housing. They're often used to shake and settle powders, flakes, and pellets in bins and hoppers. Motor is totally enclosed for use in environments with splashing water and dust. Every 10 pounds of dry material requires one pound of force to move it. If your bin has 200 pounds of dry material, you need a vibrator with at least 20 pounds of force.
Optional starters provide on/off motor control and have thermal overload protection.
For technical drawings and 3-D models, click on a part number.
120V AC Single Phase—Three-Prong Plug
For Content


Weight,




lbs.

Force,




lbs.

Vibration


Speed,


VPM
Current

Frequency,


Hz

Volume,


dBA
Cord


Lg.,




ft.

No.


of

Dia.

Ctr.-to-Ctr.

Wd.

Ht.

Dp.

Each

Glass-Filled

Nylon Plastic

850
85
4,000
0.3A
60
65
10
4

5/16

"
2

7/16

", 3

3/8

"
6

7/16

"
3

1/4

"
5

13/16

"
0000000
0000000

Aluminum

2,090
209
3,600
1.3A
60
76
10
4

1/4

"
2

7/16

", 4

3/16

"
8

5/16

"
5

3/8

"
5

1/8

"
0000000
000000
240/460V AC Three Phase—Screw Terminals
For Content


Weight,




lbs.

Force,




lbs.

Vibration


Speed,


VPM
Current

Frequency,


Hz

Volume,


dBA

No.


of

Dia.

Ctr.-to-Ctr.

Wd.

Ht.

Dp.

Each
Each

Aluminum

2,090
209
3,600
0.4A/0.2A
60
76
4

1/4

"
2

7/16

", 4

3/16

"
8

5/16

"
5

5/16

"
5

1/8

"
000000
0000000
0000000
0000000
4,170
417
3,600
0.6A/0.3A
60
76
4

3/8

"
2

7/16

", 4

3/16

"
9

3/16

"
6

1/16

"
5

1/8

"
0000000
000000
0000000
000000
4,320
432
1,800
1A/0.5A
60
76
4

1/2

"
3

9/16

", 4

15/16

"
10

3/4

"
6

13/16

"
5

15/16

"
0000000
000000
0000000
000000
9,330
933
1,800
1.7A/0.9A
60
76
4

1/2

"
4

1/8

", 5

1/2

"
13"
7

3/4

"
6

11/16

"
0000000
000000
0000000
000000
15,700
1,570
1,800
2.8A/1.4A
60
76
4

11/16

"
4

3/4

", 6

11/16

"
15

3/8

"
8

1/4

"
8

3/16

"
0000000
000000
0000000
000000
24,740
2,474
1,800
2.7A/1.4A
60
76
4

11/16

"
4

3/4

", 6

11/16

"
16

5/16

"
8

11/16

"
8

3/16

"
0000000
000000
0000000
000000