Chemical-Resistant

Plastic

Liquid-Powered

Jet Pumps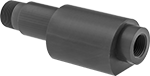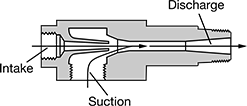 Made from PVC, these pumps are highly corrosion resistant and lightweight. Use them to produce emulsions, elevate water, and transport grains and other small particles. When high-pressure liquid enters the intake, it creates suction that draws a second liquid or gas into the pump body and discharges a pressurized blend of the two. The discharge pressure is greater than the suction flow but lower than the intake pressure. They have no moving parts or seals, eliminating downtime for lubrication and repairs. They're also known as eductors, ejectors, and injectors.
Note: Liquid suction flow rate is calculated using water at 100 psi with no feet of discharge head.
For technical drawings and 3-D models, click on a part number.
Liquid Suction
Flow

Rate,

gpm

@ 5




ft.

of
Lift

@ 10




ft.

of
Lift

@ 20




ft.

of
Lift

Max.


Suction


Lift,

ft.

Operating


Pressure,


psi

Max.




Temp.,




°F

Pipe
Size

Thread
Type
Pipe
Size

Thread
Type
Pipe
Size

Thread
Type

Lg.

Wd.

Each

For Use With

Grain,

Slurry,

Water

PVC Plastic

8
7
5
27
100
70°

3/4

NPT

1/2

NPT

3/4

NPT

5

3/4

"
2"
0000000
0000000
14
12
9
27
100
70°
1

NPT

1/2

NPT

1

NPT

6

7/8

"
2

1/2

"
0000000
000000
24
22
16
27
100
70°
1

1/4

NPT

3/4

NPT

1

1/4

NPT

9

1/8

"
3"
0000000
000000
40
36
27
27
100
70°
1

1/2

NPT

1

NPT

1

1/2

NPT

11"
3

1/2

"
0000000
000000
73
66
49
27
100
70°
2

NPT

1

1/4

NPT

2

NPT

14

1/4

"
4"
0000000
000000
127
114
86
27
100
70°
2

1/2

NPT

1

1/2

NPT

2

1/2

NPT

18

1/2

"
5"
0000000
00000000
237
213
160
27
100
70°
3

NPT

2

NPT

3

NPT

24

1/4

"
6"
0000000
00000000