Parking Signs
Make parking restrictions clear to drivers.
Designed for long-lasting outdoor use, aluminum signs won't corrode or fade when exposed to harsh weather. In addition to resisting cracking and chipping, they stand up to chemical splashes.
Reflective signs increase visibility in low-light conditions and at night.
Reserved Parking for Expectant Mothers (English)—Green Message

Ht.

Wd.

Thick.

Fasteners
Included
Number
of Holes
Hole


Dia.

1-5

6-Up

With Mounting

Holes—

Reflective Aluminum

18"
12"
0.08"
No
2

3/8

"
0000000
000000
000000
ADA-Compliant

Department and Room Signs
Compliant with ADA regulations for the visually impaired, these signs clearly label various areas throughout an office.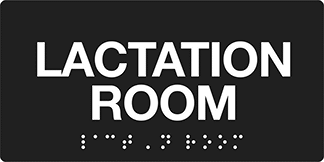 Lactation Room Sign
Height
Width
Thickness
Material
Mount Type
Features
Includes
Each
4"
8"

1/16

"
Acrylic Plastic

Adhesive Back
Grade 2 Braille
Mounting Tape
0000000
000000