Air-Powered

Wash Guns for Chemicals and Solvents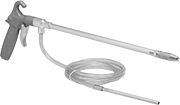 A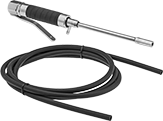 B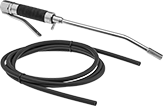 C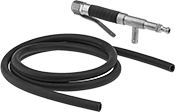 D
Use these guns to clean as well as apply chemicals and solvents.
Stainless steel nozzles are corrosion resistant.
Style A should be used with cold liquids only. Do not use in air-only mode.
Styles B-D have a rubber hose that is oil resistant. You can remove the hose to operate in air-only mode. The hose on Style D is heavy duty and reinforced.
Style
Body Material
Nozzle


Lg.

Airflow

Max.

Siphon
Flow

Rate,

gpm

Min.

Max.

Max.

Temp.

Each

1/4

NPT Female Inlet Connection

Brass Nozzle

A
Aluminum
12"
9 cfm @ 100 psi
0.3
Not Rated
150
Not Rated
00000000
000000
B
Nickel-Plated Brass
6

1/4

"
11 cfm @ 80 psi
0.2
35
175
140° F
000000
000000
C
Nickel-Plated Brass
9

3/4

"
11 cfm @ 80 psi
0.2
35
175
140° F
000000
000000
D
Brass
2

1/4

"
16 cfm @ 80 psi
0.5
35
175
140° F
000000
000000

Stainless Steel Nozzle

B
Nickel-Plated Brass
6

1/4

"
11 cfm @ 80 psi
0.2
35
175
140° F
0000000
000000
C
Nickel-Plated Brass
9

3/4

"
11 cfm @ 80 psi
0.2
35
175
140° F
0000000
000000

3/8

NPT Female Inlet Connection

Brass Nozzle

B
Nickel-Plated Brass
6

1/4

"
11 cfm @ 80 psi
0.2
35
175
140° F
000000
000000
C
Nickel-Plated Brass
9

3/4

"
11 cfm @ 80 psi
0.2
35
175
140° F
000000
000000
D
Brass
2

1/4

"
16 cfm @ 80 psi
0.5
35
175
140° F
000000
000000

Stainless Steel Nozzle

B
Nickel-Plated Brass
6

1/4

"
11 cfm @ 80 psi
0.2
35
175
140° F
0000000
000000
C
Nickel-Plated Brass
9

3/4

"
11 cfm @ 80 psi
0.2
35
175
140° F
0000000
000000

1/2

NPT Female Inlet Connection

Brass Nozzle

B
Nickel-Plated Brass
6

1/4

"
11 cfm @ 80 psi
0.2
35
175
140° F
000000
000000
C
Nickel-Plated Brass
9

3/4

"
11 cfm @ 80 psi
0.2
35
175
140° F
000000
000000
D
Brass
2

1/4

"
16 cfm @ 80 psi
0.5
35
175
140° F
000000
000000

Stainless Steel Nozzle

B
Nickel-Plated Brass
6

1/4

"
11 cfm @ 80 psi
0.2
35
175
140° F
0000000
000000
C
Nickel-Plated Brass
9

3/4

"
11 cfm @ 80 psi
0.2
35
175
140° F
0000000
000000