Chip-Guard

Extended-Reach

Blowguns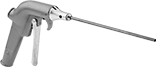 With Straight Nozzle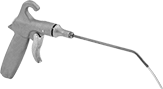 With Angled Nozzle
Also known as air-shield and safety-shield blowguns, an outer air curtain deflects flying chips and dust while the center airstream blows away debris. Their extra length helps you access hard-to-reach areas too. All conform to OSHA 29 CFR 1910.242 requirements for maximum air outlet pressure.
Blowguns with an angled nozzle direct air over and around obstacles.
For technical drawings and 3-D models, click on a part number.
Nozzle


Lg.

Air
Consumption
Volume

Max.

Inlet


Pressure,


psi
Pipe
Size

Thread
Type
Gender
Body
Material
Nozzle
Tip
Material
Specifications
Met
Each
Each

With Straight Nozzle

7

1/4

"
17 cfm @ 100 psi
90 dBA
120

1/4

NPT

Female
Powder-Coated Aluminum
Brass
OSHA Compliant 29 CFR 1910.242
0000000
000000
0000000
00000
9

1/4

"
17 cfm @ 100 psi
90 dBA
120

1/4

NPT

Female
Powder-Coated Aluminum
Brass
OSHA Compliant 29 CFR 1910.242
0000000
00000
0000000
00000
13

1/4

"
17 cfm @ 100 psi
90 dBA
120

1/4

NPT

Female
Powder-Coated Aluminum
Brass
OSHA Compliant 29 CFR 1910.242
0000000
00000
0000000
00000
19

1/4

"
17 cfm @ 100 psi
90 dBA
120

1/4

NPT

Female
Powder-Coated Aluminum
Brass
OSHA Compliant 29 CFR 1910.242
0000000
00000
0000000
00000

With Angled Nozzle

7"
35 cfm @ 100 psi
103 dB
120

1/4

NPT

Female
Aluminum
Polyethylene Plastic
OSHA Compliant 29 CFR 1910.242
0000000
00000
0000000
0000
13"
35 cfm @ 100 psi
103 dB
120

1/4

NPT

Female
Aluminum
Polyethylene Plastic
OSHA Compliant 29 CFR 1910.242
0000000
00000
000000
0000
19"
35 cfm @ 100 psi
103 dB
120

1/4

NPT

Female
Aluminum
Polyethylene Plastic
OSHA Compliant 29 CFR 1910.242
0000000
00000
0000000
00000