Measured in decibels (dB), volume ratings indicate how much noise equipment makes. Some common volume levels include a whisper @ 20 dB, a refrigerator @ 40 dB, a conversation @ 60 dB, and a light machine shop @ 90 dB. OSHA recommends hearing protection for exposure to 80 dB and greater.
Equipment-Cooling

Vortex Tubes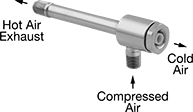 Vortex tubes convert compressed air into a stream of cold air. Use them to keep heat-sensitive electronic equipment cool with cold air. They have no moving parts for a long service life. Note: Air supply must be filtered to remove moisture and contaminants.
Airflow adjusters (sold separately) can be switched out to increase or decrease the vortex tube's airflow (cfm) to alter its cooling capacity.
Mufflers (sold separately) reduce the sound level to protect your hearing.