Measured in decibels (dB), volume ratings indicate how much noise equipment makes. Some common volume levels include a whisper @ 20 dB, a refrigerator @ 40 dB, a conversation @ 60 dB, and a light machine shop @ 90 dB. OSHA recommends hearing protection for exposure to 80 dB and greater.
Hazardous Location
Enclosure-Cooling

Vortex Tubes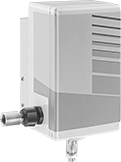 UL classified for hazardous locations, these vortex tubes convert compressed air into a stream of cold air to keep electronics within enclosures from overheating while also keeping dust and other contaminants out. They chill compressed air by 50° F or more. These vortex tubes have a check valve that seals the air outlet when the unit is not in use, allowing the enclosure to be pressurized. All include a ducting kit to distribute cool air throughout the enclosure.
Vortex tubes with a cooling capacity of 5,000 Btu/hr. have dual air outlets that release two cold air streams. They're good for cooling down large enclosures and electronics that generate a lot of heat. You can direct the air streams separately to target specific electronics. These vortex tubes take up more space inside of enclosures than those with a lower cooling capacity.
Replacement filters are sold separately.
Cooling


Cap.,




Btu/hr.

Airflow,


cfm
Pipe
Size

Thread
Type
Gender
Required Air


Pressure,


psi
Volume
@
Distance

Ht.

Wd.

Dp.

Environmental
Rating
Each
Each

With Nonadjustable Thermostat

(80° to 90° F)

Plastic

900
15

3/8

NPT

Female
80-100
60 dBA @ 1 ft.
8"
4

3/4

"
5

3/8

"
NEC Class I Division 2 Groups A, B, C, D
NEC Class II Division 2 Groups F, G
NEC Class III Division 2
NEMA 4X
0000000
000000000
0000000
0000000
1,500
25

3/8

NPT

Female
80-100
66 dBA @ 1 ft.
8"
4

3/4

"
5

3/8

"
NEC Class I Division 2 Groups A, B, C, D
NEC Class II Division 2 Groups F, G
NEC Class III Division 2
NEMA 4X
0000000
00000000
0000000
000000
2,500
35

3/8

NPT

Female
80-100
72 dBA @ 1 ft.
8"
4

3/4

"
5

3/8

"
NEC Class I Division 2 Groups A, B, C, D
NEC Class II Division 2 Groups F, G
NEC Class III Division 2
NEMA 4X
0000000
00000000
0000000
000000

With Nonadjustable Thermostat

(75° to 100° F)

Plastic

5,000
70

3/8

NPT

Female
90-100
75 dBA @ 1 ft.
6

7/16

"
9

7/16

"
5

9/16

"
NEC Class I Division 2 Groups A, B, C, D
NEC Class II Division 2 Groups F, G
NEMA 4X
0000000
00000000
0000000
000000