High-Pressure

Machine-Mount

Coolant Nozzles with Threaded Connection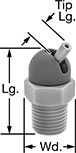 For use in the highest pressure coolant lines, these nozzles are rated for at least 1,000 psi. They fit both NPT and BSPT threaded holes.
Use an adjustment tool (sold separately) to push on the nozzle tip to adjust the angle of the coolant stream.
For technical drawings and 3-D models, click on a part number.
Size

Thread
Type
Gender
Spray
Pattern
Orifice


Dia.

Lg.

Tip


Lg.

Wd.

Body
Tip

Max.

Flow


Rate,


gpm

Max.




Temp.,




°F

1-4

5-Up

For Use With

Air,

Coolant,

Cutting

Oil,

Water

1/4

NPT, BSPT
Male
Stream
0.06"
1.27"
0"
0.69"
Acetal Plastic

Stainless Steel
2.2
115°
0000000
000000
000000

1/4

NPT, BSPT
Male
Stream
0.06"
1.27"
1.25"
0.69"
Acetal Plastic

Stainless Steel
2.2
115°
0000000
00000
00000

1/4

NPT, BSPT
Male
Stream
0.06"
1.65"
0.25"
0.69"
Acetal Plastic

Stainless Steel
2.2
115°
0000000
00000
00000

1/4

NPT, BSPT
Male
Stream
0.06"
1.65"
1.25"
0.69"
Acetal Plastic

Stainless Steel
2.2
115°
0000000
00000
00000

1/4

NPT, BSPT
Male
Stream
0.09"
1.27"
0"
0.69"
Acetal Plastic

Stainless Steel
5.2
115°
0000000
00000
00000

1/4

NPT, BSPT
Male
Stream
0.09"
1.27"
1.25"
0.69"
Acetal Plastic

Stainless Steel
5.2
115°
0000000
00000
00000

1/4

NPT, BSPT
Male
Stream
0.09"
1.65"
0.25"
0.69"
Acetal Plastic

Stainless Steel
5.2
115°
0000000
00000
00000

1/4

NPT, BSPT
Male
Stream
0.09"
1.65"
1.25"
0.69"
Acetal Plastic

Stainless Steel
5.2
115°
0000000
00000
00000

1/4

NPT, BSPT
Male
Stream
0.12"
1.27"
0"
0.69"
Acetal Plastic

Stainless Steel
8.9
115°
0000000
00000
00000

1/4

NPT, BSPT
Male
Stream
0.12"
1.27"
1.25"
0.69"
Acetal Plastic

Stainless Steel
8.9
115°
0000000
00000
00000

1/4

NPT, BSPT
Male
Stream
0.12"
1.65"
0.25"
0.69"
Acetal Plastic

Stainless Steel
8.9
115°
0000000
00000
00000

1/4

NPT, BSPT
Male
Stream
0.12"
1.65"
1.25"
0.69"
Acetal Plastic

Stainless Steel
8.9
115°
0000000
00000
00000

1/4

NPT, BSPT
Male
Stream
0.16"
1.27"
0"
0.69"
Acetal Plastic

Stainless Steel
19.8
115°
0000000
00000
00000

1/4

NPT, BSPT
Male
Stream
0.16"
1.27"
1.25"
0.69"
Acetal Plastic

Stainless Steel
19.8
115°
0000000
00000
00000

1/4

NPT, BSPT
Male
Stream
0.16"
1.65"
0.25"
0.69"
Acetal Plastic

Stainless Steel
19.8
115°
0000000
00000
00000

1/4

NPT, BSPT
Male
Stream
0.16"
1.65"
1.25"
0.69"
Acetal Plastic

Stainless Steel
19.8
115°
0000000
00000
00000

1/8

NPT, BSPT
Male
Stream
0.09"
0.81"
0.25"
0.56"
Brass
Stainless Steel
6.3
160°
0000000
00000
00000

1/8

NPT, BSPT
Male
Stream
0.09"
0.81"
1.25"
0.56"
Brass
Stainless Steel
6.3
160°
0000000
00000
00000

1/8

NPT, BSPT
Male
Stream
0.12"
0.81"
0.25"
0.56"
Brass
Stainless Steel
10.9
160°
0000000
00000
00000

1/8

NPT, BSPT
Male
Stream
0.12"
0.81"
1.25"
0.56"
Brass
Stainless Steel
10.9
160°
0000000
00000
00000

1/4

NPT, BSPT
Male
Stream
0.12"
0.94"
0.25"
0.63"
Brass
Stainless Steel
10.9
160°
0000000
00000
00000

1/4

NPT, BSPT
Male
Stream
0.12"
0.94"
1.25"
0.63"
Brass
Stainless Steel
10.9
160°
0000000
00000
00000

1/4

NPT, BSPT
Male
Stream
0.16"
0.94"
0.5"
0.63"
Brass
Stainless Steel
24.3
160°
0000000
00000
00000

1/4

NPT, BSPT
Male
Stream
0.16"
0.94"
1.25"
0.63"
Brass
Stainless Steel
24.3
160°
0000000
00000
00000