Measured in decibels (dB), volume ratings indicate how much noise equipment makes. Some common volume levels include a whisper @ 20 dB, a refrigerator @ 40 dB, a conversation @ 60 dB, and a light machine shop @ 90 dB. OSHA recommends hearing protection for exposure to 80 dB and greater.
Low-Noise

Washdown

Enclosure-Cooling

Vortex Tubes with Thermostats
In addition to being quieter than standard enclosure-cooling vortex tubes, these stand up to washdowns and weather. They convert compressed air into a stream of cold air to keep electronics within enclosures from overheating while also keeping dust and other contaminants out. Set the thermostat and the tubes switch on only when needed. All include a ducting kit to distribute cool air throughout the enclosure and air mufflers to reduce noise. They also have an inline compressed air filter, which prevents moisture from building up inside the enclosure to further safeguard electronics.
Vortex tubes with dual air outlets have a higher cooling capacity than other vortex tubes. Use them to cool large enclosures and electronics that generate a lot of heat. Direct the two air streams independently for targeted cooling. With two air mufflers and two ducting lines, these vortex tubes take up more space than vortex tubes with one air outlet.
Vortex tubes with an electric thermostat require a 120V AC outlet. Those with an internal outlet are best for areas where external outlets are not available or where it would be unsafe to have an external electrical connection. Choose those with an external outlet if you need separate electrical connections for the thermostat and the electronics within an enclosure. Replacement filters are sold separately.
With Nonadjustable Mechanical Thermostat (70° to 100° F)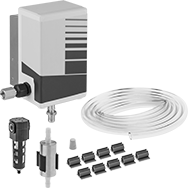 Mechanical Thermostat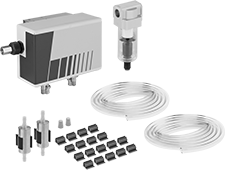 Mechanical Thermostat with Dual Air Outlets
Cooling


Cap.,




Btu/hr.

Airflow,


cfm
Pipe
Size

Thread
Type
Gender
Required Air


Pressure,


psi

Volume,


dBA

Ht.

Wd.

Dp.

For
Opening


Dia.

Environmental
Rating
Features
Each
900
15

3/8

NPT

Female
90-100
60
8"
4

3/4

"
5

3/8

"
1

15/16

"
NEMA 4

__
0000000
000000000
1,500
25

3/8

NPT

Female
90-100
66
8"
4

3/4

"
5

3/8

"
1

15/16

"
NEMA 4

__
0000000
00000000
2,500
35

3/8

NPT

Female
90-100
72
8"
4

3/4

"
5

3/8

"
1

15/16

"
NEMA 4

__
0000000
00000000
5,000
70

3/8

NPT

Female
90-100
75
6

3/8

"
9

1/2

"
5

1/2

"
1

15/16

"
NEMA 4

Dual Air Outlets
0000000
00000000
With Adjustable Electric Thermostat (35° to 140° F)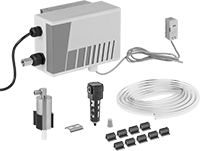 Electric Thermostat
Cooling


Cap.,




Btu/hr.

Airflow,


cfm
Pipe
Size

Thread
Type
Gender
Required Air


Pressure,


psi

Volume,


dBA
Voltage
Electrical
Connection

Ht.

Wd.

Dp.

For
Opening


Dia.

Environmental
Rating
Each

Internal Outlet

900
15

3/8

NPT

Female
40-150
62-68
120V AC
Plug
6

7/16

"
9

7/16

"
5

9/16

"
1

15/16

"
NEMA 4X

0000000
000000000
1,500
25

3/8

NPT

Female
40-150
62
120V AC
Plug
6

7/16

"
9

7/16

"
5

9/16

"
1

15/16

"
NEMA 4X

0000000
00000000
2,500
35

3/8

NPT

Female
40-150
62
120V AC
Plug
6

7/16

"
9

7/16

"
5

9/16

"
1

15/16

"
NEMA 4X

0000000
00000000

External Outlet

900
15

3/8

NPT

Female
40-150
62-68
120V AC
Plug
6

7/16

"
9

7/16

"
5

9/16

"
1

15/16

"
NEMA 4X

0000000
00000000
1,500
25

3/8

NPT

Female
40-150
62
120V AC
Plug
6

7/16

"
9

7/16

"
5

9/16

"
1

15/16

"
NEMA 4X

0000000
00000000
2,500
35

3/8

NPT

Female
40-150
62
120V AC
Plug
6

7/16

"
9

7/16

"
5

9/16

"
1

15/16

"
NEMA 4X

0000000
00000000