Quick-Disconnect

High-Pressure

Wash Guns
With a high maximum pressure and quick-disconnect nozzle connection, these wash guns work with pressure washers and high-pressure spray systems and it's easy to swap out their nozzles. Five nozzles with different spray angles are included, as is a 20" nozzle extension. There's also a quick-disconnect inlet adapter, so you can switch between hoses easily as well. To prevent accidental spraying, these guns have a trigger lock.
Wash guns with a swivel forearm handle rotate 360° to help you find the most comfortable position for spraying.
For additional nozzles, see quick-disconnect high-pressure spray nozzles.

Wash Gun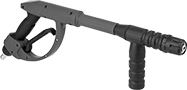 Wash Gun with Swivel Forearm Handle
Max.

Flow


Rate,


gpm

Max.




Pressure,


psi

Max.




Temp.,




°F

Valve
Body
Material
Pipe
Size

Thread
Size

Thread
Type
Gender
Spray
Angle
Thread
Size

Thread
Type
Coupling
Size
Gender

Lg.

Material
Features
Each

Plastic Body

6.6
4,000
140°
Brass,
Stainless Steel
3/8

__
NPT

Female
0°, 15°, 25°, 40°, 65°
M22

Metric

1/4

Female
20"
Brass,
Stainless Steel
Trigger Lock
0000000
000000
6.6
4,200
140°
Brass,
Stainless Steel
__
M22

Metric

Female
0°, 15°, 25°, 40°, 65°
M22

Metric

1/4

Female
20"
Brass,
Stainless Steel
Trigger Lock, Swivel Forearm Handle
0000000
00000

Replacement Nozzles
Coupling
Size
Gender

Max.

Flow


Rate,

gpm

Max.




Pressure,

psi
Material
Spray Angle
Includes
Each

1/4

Male
3
5,000
Nickel-Plated Brass
0°, 15°, 25°, 40°, 65°
0° Spray Nozzle
15° Spray Nozzle
25° Spray Nozzle
40° Spray Nozzle
65° Spray Nozzle
0000000
00000