About NEMA
Plugs,

Sockets,

and Receptacles
Cordless Phone Battery Packs


B

A

C
These battery cells are wired together for use in cordless phones.
Nickel cadmium (NiCad) batteries should be drained completely before recharging for maximum battery life.
Nickel metal hydride (NiMH) batteries can be recharged before they are drained completely without affecting battery life.
For Manufacturer
Manufacturer
Equivalent Number
Style
Type
Voltage

Capacity,




mA-hrs.

Each
AT&T, Panasonic, Uniden
CO101P2
B
Plug
3.6V DC
600
0000000
000000
Bell South, HAC, Southwind
CO100P5, P3305
A
Plug
3.6V DC
400
0000000
0000

Nickel Metal Hydride

(NiMH)

AT&T, GE
CO114P3
C
Plug
3.6V DC
1,500
0000000
00000
AT&T, GE, Goldstar
CO100P3, P3303
C
Plug
3.6V DC
750
0000000
00000
Panasonic, Sony, Toshiba, Uniden
CO100P2, P3302
B
Plug
3.6V DC
750
0000000
00000
Backup Batteries for Mobile Devices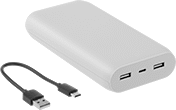 Power mobile devices such as smartphones and tablets when electricity is unavailable. Charge these batteries by plugging the included USB cord or cable into a computer or charger. The cords and cables are backward compatible, so they work with connectors that meet the same or a lower USB standard. For maximum battery life, recharge these lithium ion (Li-Ion) batteries before they're drained completely.
Number
of USB
Charging Ports
USB
Connection
Type
USB
Standard
Voltage

Capacity,




mA-hrs.

Includes
Features
Color

Ht.

Wd.

Dp.

Each
2
A/C
2.0
100V AC/240V AC
20,000
6" USB-A to USB-C Cord
Charge Status Indicator
White
6.2"
2.9"
1"
0000000
000000

9

Power up mobile devices and other electronics.
Unlike many chargers in the market, these are high quality and reliable. All have passed strict U.S., Canadian, or European Union safety standards. Most of our wall chargers also meet standards for energy efficiency when they're in-use, as well as when they're plugged in but not charging.
USB-C chargers are quickly becoming the new standard, often seen on new phones and tablets.
USB-A chargers have the traditional USB connection.
Chargers with a lithium-ion battery can power up to two mobile devices on the go.
Chargers cannot be sold to the listed areas due to energy efficiency regulations.
USB Connection Type


(Number of Ports)

Voltage

Input Voltage
Specifications
Met
Cannot Be
Sold To
Each

Straight-Blade

NEMA

1-15

Plug with Rechargeable Lithium Ion

(Li-Ion)

Battery

9
A (1)

C (1)

5V DC

5V DC

100V AC-240V AC
UL Listed, DOE Level VI Efficiency
CA, Canada
0000000
000000