Deutsch-Style

DC Connectors
Each set includes a plug and a socket.
13A and 25A crimp-on connectors are IP67 rated to provide protection from dust and temporary submersion. 25A connectors are only IP67 rated when mated.
Connectors with a crimp-on connection require a crimper (sold separately) for wire installation.
For technical drawings and 3-D models, click on a part number.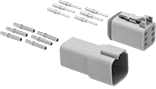 Wire Leads Connection
Crimp-On Connection
Current

Lg.

Wd.

Ht.

Color

Temp.




Range,

°F

Compatible With
Environmental
Rating
For Wire
Gauge
Each
7.5A
1.9"
0.6"
0.6"
Gray
-65° to 255°
Deutsch-Style Connectors
__
20
0000000
000000
13A
2.1"
0.7"
0.7"
Gray
-65° to 255°
Deutsch-Style Connectors
IP67

20-16
0000000
00000
25A
2.4"
0.9"
0.9"
Gray
-65° to 255°
Deutsch-Style Connectors
IP67

14-12
0000000
00000
7.5A
1.9"
0.8"
0.6"
Gray
-65° to 255°
Deutsch-Style Connectors
__
20
0000000
00000
13A
2.1"
0.8"
1"
Gray
-65° to 255°
Deutsch-Style Connectors
IP67

20-16
0000000
00000
7.5A
2.1"
0.8"
0.8"
Gray
-65° to 255°
Deutsch-Style Connectors
__
20
0000000
00000
13A
2.3"
0.8"
0.9"
Gray
-65° to 255°
Deutsch-Style Connectors
IP67

20-16
0000000
00000
25A
2.4"
1.1"
1.1"
Gray
-65° to 255°
Deutsch-Style Connectors
IP67

14-12
0000000
00000
7.5A
2.1"
0.8"
0.9"
Gray
-65° to 255°
Deutsch-Style Connectors
__
20
0000000
00000
13A
2.3"
0.8"
1"
Gray
-65° to 255°
Deutsch-Style Connectors
IP67

20-16
0000000
00000
7.5A
2.1"
1.2"
0.8"
Gray
-65° to 255°
Deutsch-Style Connectors
__
20
0000000
00000
13A
2.3"
1.5"
0.9"
Gray
-65° to 255°
Deutsch-Style Connectors
IP67

20-16
0000000
00000
7.5A
2.1"
1.6"
0.8"
Gray
-65° to 255°
Deutsch-Style Connectors
__
20
0000000
00000
13A
2.3"
1.8"
0.9"
Gray
-65° to 255°
Deutsch-Style Connectors
IP67

20-16
0000000
00000
Wire Leads Connection
Current

Lg.

Wd.

Ht.

Color

Temp.




Range,

°F

Compatible With
Wire Lead
Gauge
Wire Lead


Lg.,

ft.

Each
7.5A
1.9"
0.6"
0.6"
Gray
-65° to 255°
Deutsch-Style Connectors
18
6
0000000
000000
13A
2.1"
0.7"
0.7"
Gray
-65° to 255°
Deutsch-Style Connectors
16
6
0000000
00000
25A
2.4"
0.9"
0.9"
Gray
-65° to 255°
Deutsch-Style Connectors
12
6
0000000
00000
7.5A
1.9"
0.8"
0.6"
Gray
-65° to 255°
Deutsch-Style Connectors
18
6
0000000
00000
13A
2.1"
0.8"
1"
Gray
-65° to 255°
Deutsch-Style Connectors
16
6
0000000
00000
7.5A
2.1"
0.8"
0.8"
Gray
-65° to 255°
Deutsch-Style Connectors
18
6
0000000
00000
13A
2.3"
0.8"
0.9"
Gray
-65° to 255°
Deutsch-Style Connectors
16
6
0000000
00000
25A
2.4"
1.1"
1.1"
Gray
-65° to 255°
Deutsch-Style Connectors
12
6
0000000
00000
7.5A
2.1"
0.8"
0.9"
Gray
-65° to 255°
Deutsch-Style Connectors
18
6
0000000
00000
13A
2.3"
0.8"
1"
Gray
-65° to 255°
Deutsch-Style Connectors
16
6
0000000
00000
7.5A
2.1"
1.2"
0.8"
Gray
-65° to 255°
Deutsch-Style Connectors
18
6
0000000
00000
13A
2.3"
1.5"
0.9"
Gray
-65° to 255°
Deutsch-Style Connectors
16
6
0000000
000000
7.5A
2.1"
1.6"
0.8"
Gray
-65° to 255°
Deutsch-Style Connectors
18
6
0000000
000000
13A
2.3"
1.8"
0.9"
Gray
-65° to 255°
Deutsch-Style Connectors
16
6
0000000
000000
| | | | |
| --- | --- | --- | --- |
| Nonratcheting Crimper | 000000 | Each | 000000 |