Metric Class X Plug Gauges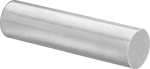 Use these metric Class X plug gauges for precision go/no-go measuring of hole sizes and depths, checking hole location and distance, and setting micrometers. They're also called pin gauges. All come with a certificate of accuracy traceable to NIST that states they've passed a test for accuracy.
If a go gauge can enter the hole and a no-go gauge is unable to enter, the hole is within tolerance.
Go gauges check the minimum hole diameter.
No-go gauges check the maximum hole diameter.
For technical drawings and 3-D models, click on a part number.
Choose
a
Size
Increment
Length
Surface
Smoothness


(RMS)

Hardness
Material
Gauge
Tolerance
Each

Go Gauge

0.101mm to 0.381mm
0.001mm
2"
4 microinch
Rockwell C60
Tool Steel
0mm to 0.001mm
000000
000000
0.382mm to 0.762mm
0.001mm
2"
4 microinch
Rockwell C60
Tool Steel
0mm to 0.001mm
000000
00000
0.763mm to 1.905mm
0.001mm
2"
4 microinch
Rockwell C60
Tool Steel
0mm to 0.001mm
000000
00000
1.906mm to 4.572mm
0.001mm
2"
4 microinch
Rockwell C60
Tool Steel
0mm to 0.001mm
000000
00000
4.573mm to 7.137mm
0.001mm
2"
4 microinch
Rockwell C60
Tool Steel
0mm to 0.001mm
0000000
00000
7.138mm to 10.312mm
0.001mm
2"
4 microinch
Rockwell C60
Tool Steel
0mm to 0.001mm
0000000
00000
10.313mm to 12.954mm
0.001mm
2"
4 microinch
Rockwell C60
Tool Steel
0mm to 0.001mm
0000000
00000
12.955mm to 16.129mm
0.001mm
2"
4 microinch
Rockwell C60
Tool Steel
0mm to 0.001mm
000000
00000
16.130mm to 19.304mm
0.001mm
2"
4 microinch
Rockwell C60
Tool Steel
0mm to 0.001mm
000000
00000
19.305mm to 20.960mm

20.963mm to 25.654mm

0.001mm
2"
4 microinch
Rockwell C60
Tool Steel
0mm to 0.001mm

0mm to 0.0015mm

000000
00000
0.101mm to 0.381mm
0.001mm
2"
4 microinch
Rockwell C60
Tool Steel
-0.001mm to 0mm
000000
00000
0.382mm to 0.762mm
0.001mm
2"
4 microinch
Rockwell C60
Tool Steel
-0.001mm to 0mm
000000
00000
0.763mm to 1.905mm
0.001mm
2"
4 microinch
Rockwell C60
Tool Steel
-0.001mm to 0mm
0000000
00000
1.906mm to 4.572mm
0.001mm
2"
4 microinch
Rockwell C60
Tool Steel
-0.001mm to 0mm
0000000
00000
4.573mm to 7.137mm
0.001mm
2"
4 microinch
Rockwell C60
Tool Steel
-0.001mm to 0mm
0000000
00000
7.138mm to 10.312mm
0.001mm
2"
4 microinch
Rockwell C60
Tool Steel
-0.001mm to 0mm
0000000
00000
10.313mm to 12.954mm
0.001mm
2"
4 microinch
Rockwell C60
Tool Steel
-0.001mm to 0mm
0000000
00000
12.955mm to 16.129mm
0.001mm
2"
4 microinch
Rockwell C60
Tool Steel
-0.001mm to 0mm
0000000
00000
16.130mm to 19.304mm
0.001mm
2"
4 microinch
Rockwell C60
Tool Steel
-0.001mm to 0mm
0000000
00000
19.305mm to 20.960mm

20.963mm to 25.654mm

0.001mm
2"
4 microinch
Rockwell C60
Tool Steel
-0.001mm to 0mm

-0.0015mm to 0mm

0000000
00000