Pull-Ring

Retractable Spring Plungers with Lanyard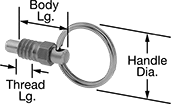 Pull Ring with
12"
Lanyard

With Thread Locker

Without Thread Locker
Use the lanyard as a tether to secure the spring plunger to machinery and prevent accidental drops. Retract the nose by pulling the ring. These spring plungers have a long nose that provides a large bearing surface to handle side loads.
Steel is strong and wear resistant. Zinc-plated steel bodies resist corrosion in wet environments.
Stainless steel is chemical resistant and may be mildly magnetic.
Spring plungers without thread locker are for use in soft material such as aluminum, in extreme temperatures, and on parts requiring frequent assembly and removal.
Spring plungers with thread locker have a nylon locking patch bonded to the threads that adds friction to resist loosening.
Extended nose force is the force required to begin to depress the nose. Compressed nose force is the force required to depress the nose flush with the body. When using a plunger as a detent or stop, a lighter nose force with a shallower hole releases more easily, while a heavier force with a deeper hole holds more securely.
For technical drawings and 3-D models, click on a part number.
Size

Lg.

Body


Lg.

Extended


Lg.

Dia.

Handle


Dia.

Extended
Compressed
Lanyard
Material
Tab
Material
Choose a
Locking
Type
Each

Zinc-Plated

Steel Body and Steel Nose

1/4

"-20

0.281"
0.594"
0.187"
0.156"
0.75"
0.5
2
Plastic-Coated Stainless Steel
Aluminum
0000000
000000

3/8

"-16

0.437"
0.813"
0.281"
0.25"
0.75"
0.8
3
Plastic-Coated Stainless Steel
Aluminum
0000000
00000

1/2

"-13

0.562"
1.063"
0.375"
0.312"
1"
1
4
Plastic-Coated Stainless Steel
Aluminum
0000000
00000

5/8

"-11

0.687"
1.313"
0.437"
0.375"
1"
1.3
5
Plastic-Coated Stainless Steel
Aluminum
0000000
00000

18-8

Stainless Steel Body and

18-8

Stainless Steel Nose

1/4

"-20

0.281"
0.594"
0.187"
0.156"
0.75"
0.5
2
Plastic-Coated Stainless Steel
Aluminum
0000000
00000

3/8

"-16

0.437"
0.813"
0.281"
0.25"
0.75"
0.8
3
Plastic-Coated Stainless Steel
Aluminum
0000000
00000

1/2

"-13

0.562"
1.063"
0.375"
0.312"
1"
1
4
Plastic-Coated Stainless Steel
Aluminum
0000000
00000

5/8

"-11

0.687"
1.313"
0.437"
0.375"
1"
1.3
5
Plastic-Coated Stainless Steel
Aluminum
0000000
00000