Screw Nail Assortments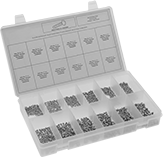 Also known as round-head Type U drive screws. Drive these into drilled or punched holes like a nail and get the hold of a screw when fastening sheet metal, plastic, and plywood. Hole size should be slightly smaller than the shank diameter.
Zinc-plated steel nails resist corrosion in wet environments.
18-8 stainless steel nails are chemical resistant and may be mildly magnetic.