Shoulder-Style

Locating Pins

Round Head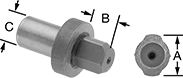 Diamond Head
The shoulder provides a consistent height reference point and keeps the pin from being pressed through the fixture. Install these pins in a plate or table and mate with holes in a workpiece for precise alignment. Press the shank into a drilled hole for permanent installation.
Diamond-head pins make less contact with the inside of a hole than round-head pins to reduce sticking and jamming.
For technical drawings and 3-D models, click on a part number.
Dia.

(A)

Ht.

(B)

Shank


Dia.

(C)

Dia.

Ht.

O'all

Ht.

Head

Dia.

Shank

Dia.

Hardness
Each

Round Head

Steel

1/8

"

7/16

"

5/16

"

5/8

"

17/64

"
1

3/16

"
0" to 0.0005"
0" to 0.0005"
Rockwell C60
00000000
000000

3/16

"

7/16

"

5/16

"

5/8

"

17/64

"
1

3/16

"
0" to 0.0005"
0" to 0.0005"
Rockwell C60
00000000
00000

1/4

"

7/16

"

5/16

"

5/8

"

17/64

"
1

3/16

"
0" to 0.0005"
0" to 0.0005"
Rockwell C60
00000000
00000

5/16

"

7/16

"

5/16

"

5/8

"

17/64

"
1

3/16

"
0" to 0.0005"
0" to 0.0005"
Rockwell C60
00000000
00000

11/32

"

1/2

"

1/2

"

7/8

"

17/64

"
1

1/2

"
0" to 0.0005"
0" to 0.0005"
Rockwell C60
00000000
00000

3/8

"

1/2

"

1/2

"

7/8

"

17/64

"
1

1/2

"
0" to 0.0005"
0" to 0.0005"
Rockwell C60
00000000
00000

13/32

"

1/2

"

1/2

"

7/8

"

17/64

"
1

1/2

"
0" to 0.0005"
0" to 0.0005"
Rockwell C60
00000000
00000

7/16

"

1/2

"

1/2

"

7/8

"

17/64

"
1

1/2

"
0" to 0.0005"
0" to 0.0005"
Rockwell C60
00000000
00000

1/2

"

1/2

"

1/2

"

7/8

"

17/64

"
1

1/2

"
0" to 0.0005"
0" to 0.0005"
Rockwell C60
00000000
00000

9/16

"

11/16

"

3/4

"
1

1/8

"

17/64

"
1

15/16

"
0" to 0.0005"
0" to 0.0005"
Rockwell C60
00000000
00000

5/8

"

11/16

"

3/4

"
1

1/8

"

17/64

"
1

15/16

"
0" to 0.0005"
0" to 0.0005"
Rockwell C60
00000000
00000

3/4

"

11/16

"

3/4

"
1

1/8

"

17/64

"
1

15/16

"
0" to 0.0005"
0" to 0.0005"
Rockwell C60
00000000
00000
1"
1"
1"
1

1/2

"

17/64

"
2

5/8

"
0" to 0.0005"
0" to 0.0005"
Rockwell C60
00000000
00000

Diamond Head

Steel

1/8

"

7/16

"

5/16

"

5/8

"

17/64

"
1

3/16

"
0" to 0.0005"
0" to 0.0005"
Rockwell C60
00000000
00000

3/16

"

7/16

"

5/16

"

5/8

"

17/64

"
1

3/16

"
0" to 0.0005"
0" to 0.0005"
Rockwell C60
00000000
00000

1/4

"

7/16

"

5/16

"

5/8

"

17/64

"
1

3/16

"
0" to 0.0005"
0" to 0.0005"
Rockwell C60
00000000
00000

5/16

"

7/16

"

5/16

"

5/8

"

17/64

"
1

3/16

"
0" to 0.0005"
0" to 0.0005"
Rockwell C60
00000000
00000

11/32

"

1/2

"

1/2

"

7/8

"

17/64

"
1

1/2

"
0" to 0.0005"
0" to 0.0005"
Rockwell C60
00000000
00000

3/8

"

1/2

"

1/2

"

7/8

"

17/64

"
1

1/2

"
0" to 0.0005"
0" to 0.0005"
Rockwell C60
00000000
00000

13/32

"

1/2

"

1/2

"

7/8

"

17/64

"
1

1/2

"
0" to 0.0005"
0" to 0.0005"
Rockwell C60
00000000
00000

7/16

"

1/2

"

1/2

"

7/8

"

17/64

"
1

1/2

"
0" to 0.0005"
0" to 0.0005"
Rockwell C60
00000000
00000

1/2

"

1/2

"

1/2

"

7/8

"

17/64

"
1

1/2

"
0" to 0.0005"
0" to 0.0005"
Rockwell C60
00000000
00000

9/16

"

11/16

"

3/4

"
1

1/8

"

17/64

"
1

15/16

"
0" to 0.0005"
0" to 0.0005"
Rockwell C60
00000000
00000

5/8

"

11/16

"

3/4

"
1

1/8

"

17/64

"
1

15/16

"
0" to 0.0005"
0" to 0.0005"
Rockwell C60
00000000
00000

3/4

"

11/16

"

3/4

"
1

1/8

"

17/64

"
1

15/16

"
0" to 0.0005"
0" to 0.0005"
Rockwell C60
00000000
00000
1"
1"
1"
1

1/2

"

17/64

"
2

5/8

"
0" to 0.0005"
0" to 0.0005"
Rockwell C60
00000000
00000