Spring-Loaded

Guide Plungers
As the face of these plungers is pushed in, the internal spring applies outward pressure to hold a workpiece in position against stops and rails. Plungers allow easy insertion and removal of parts in a fixture and accommodate slight variations in size from part to part. They mount on flat surfaces. Also known as spring stops.
Round face holds curved and contoured surfaces.
Square face with chamfered bottom provides extra clearance for workpieces that have weld beads or imperfections.
An acetal face is nonmarring to protect soft metal and polished surfaces. A steel face is strong and wear resistant. Choose a stainless steel face for chemical and corrosion resistance.

Round Face and Triangular Base

Round Face and Rectangular Base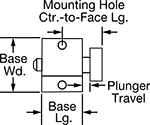 Face


Dia.

Plunger
Travel
Shape

Lg.

Wd.

Spring


Force,




lbs.

Body
Material

No.


of

Dia.

Ctr-to-Ctr




Wd.

Ctr.-to-Face




Lg.

Fasteners
Included
Each

Acetal Plastic Face

0.38"

1/8

"
Triangular
0.688"
0.875"
1.5-2.5
Aluminum
2
0.138"
0.656"
0.593"
No
0000000
00000
0.38"

1/8

"
Triangular
0.688"
0.875"
5.1-14.6
Aluminum
2
0.136"
0.656"
0.593"
No
0000000
0000
0.56"

3/16

"
Rectangular
1"
1.5"
2.3-25.8
Aluminum
2
0.203"
1.125"
0.875"
No
0000000
0000
0.81"

1/4

"
Rectangular
1.375"
2"
16.5-47.5
Aluminum
2
0.266"
1.5"
1.218"
No
0000000
00000

Steel Face

0.38"

1/8

"
Triangular
0.688"
0.875"
1.5-2.5
Aluminum
2
0.138"
0.656"
0.593"
No
0000000
0000
0.38"

1/8

"
Triangular
0.688"
0.875"
5.1-14.6
Aluminum
2
0.136"
0.656"
0.593"
No
0000000
0000
0.56"

3/16

"
Rectangular
1"
1.5"
2.3-25.8
Aluminum
2
0.203"
1.125"
0.875"
No
0000000
0000
0.81"

1/4

"
Rectangular
1.375"
2"
16.5-47.5
Aluminum
2
0.266"
1.5"
1.218"
No
0000000
00000

Stainless Steel Face

0.38"

1/8

"
Triangular
0.688"
0.875"
1.5-2.5
Aluminum
2
0.138"
0.656"
0.593"
No
0000000
00000
0.38"

1/8

"
Triangular
0.688"
0.875"
5.1-14.6
Aluminum
2
0.138"
0.656"
0.593"
No
0000000
00000
0.56"

3/16

"
Triangular
1"
1.5"
2.3-25.8
Aluminum
2
0.19"
1.125"
0.875"
No
0000000
00000
0.81"

1/4

"
Triangular
1.375"
2"
16.5-47.5
Aluminum
2
0.25"
1.5"
1.218"
No
0000000
00000

Square Face and Triangular Base

Square
Face,
Rectangular
Base,
and Aluminum Body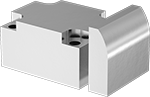 Square
Face,
Rectangular
Base,
and Steel Body

Aluminum Body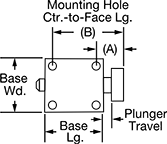 Steel Body
Face


Wd.

Plunger
Travel
Shape

Lg.

Wd.

Spring


Force,




lbs.

Body
Material

No.


of

Dia.

Ctr.-to-Ctr.




Wd.

Ctr.-to-Ctr.




Lg.

Ctr.-to-Face




Lg.

Fasteners
Included
Each

Steel Face

0.63"

1/8

"
Triangular
0.688"
0.875"
5.1-14.6
Aluminum
2
0.136"
0.656"
__
0.656"
No
0000000
00000
0.88"

3/16

"
Rectangular
1"
1.5"
2.3-25.8
Aluminum
2
0.203"
1.125"
__
0.983"
No
0000000
0000
1.25"

1/4

"
Rectangular
1.375"
2"
16.5-47.5
Aluminum
2
0.266"
1.5"
__
1.312"
No
0000000
00000
1.75"

1/4

"
Rectangular
2.25"
1.75"
50-160
Steel
4
0.25"
1.38"
1.75"
1" (A), 2.75" (B)
No
0000000
000000
Square Face with Chamfered Bottom

Square Face with Chamfered Bottom and Triangular Base

Square Face with Chamfered Bottom and Rectangular Base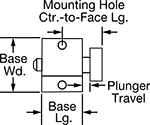 Face


Wd.

Plunger
Travel
Shape

Lg.

Wd.

Spring


Force,




lbs.

Body
Material

No.


of

Dia.

Ctr.-to-Ctr.




Wd.

Ctr.-to-Face




Lg.

Fasteners
Included
Each

Steel Face

0.63"

1/8

"
Triangular
0.688"
0.875"
5.1-14.6
Aluminum
2
0.136"
0.656"
0.656"
No
0000000
000000
0.88"

3/16

"
Rectangular
1"
1.5"
2.3-25.8
Aluminum
2
0.203"
1.125"
0.983"
No
0000000
00000
1.25"

1/4

"
Rectangular
1.375"
2"
16.5-47.5
Aluminum
2
0.266"
1.5"
1.312"
No
0000000
00000