Tapered Gib Keys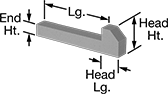 These keys have a tapered body that wedges in to the keyway for a more secure fit than standard machine keys. The gib head makes these keys easy to remove when parts need to be taken apart frequently, such as for maintenance or prototyping. Keys are tapered along their length. Use them to connect gears and other components with tapered keyways to shafts. Keys are made of steel.
The height of inch keys decreases by 1/8" for every 12" of length. They conform to ANSI B17.1 Class 1 standards for dimensions and tolerances.
The height of metric keys decreases by 1 mm for every 100 mm of length. They meet DIN 6887, an international standard for machine keys.
For technical drawings and 3-D models, click on a part number.
Lg.

Ht.

Wd.

Ht.

Lg.

End


Ht.

Rate
of
Taper
Specifications
Met
Each
1

1/2

"
-0.002" to 0.000"
-0.002" to 0.000"

5/16

"

9/32

"
0.174"

1/8

" per 12"
ANSI B17.1 Class 1
000000000
00000
2"
-0.002" to 0.000"
-0.002" to 0.000"

5/16

"

9/32

"
0.169"

1/8

" per 12"
ANSI B17.1 Class 1
000000000
0000
3"
-0.002" to 0.000"
-0.002" to 0.000"

5/16

"

9/32

"
0.158"

1/8

" per 12"
ANSI B17.1 Class 1
000000000
0000
1

1/2

"
-0.002" to 0.000"
-0.002" to 0.000"

1/2

"

3/8

"
0.237"

1/8

" per 12"
ANSI B17.1 Class 1
000000000
0000
2"
-0.002" to 0.000"
-0.002" to 0.000"

1/2

"

3/8

"
0.232"

1/8

" per 12"
ANSI B17.1 Class 1
000000000
0000
2

1/2

"
-0.002" to 0.000"
-0.002" to 0.000"

1/2

"

3/8

"
0.227"

1/8

" per 12"
ANSI B17.1 Class 1
000000000
0000
3"
-0.002" to 0.000"
-0.002" to 0.000"

1/2

"

3/8

"
0.221"

1/8

" per 12"
ANSI B17.1 Class 1
000000000
0000
3

1/2

"
-0.002" to 0.000"
-0.002" to 0.000"

1/2

"

3/8

"
0.216"

1/8

" per 12"
ANSI B17.1 Class 1
000000000
0000
4"
-0.002" to 0.000"
-0.002" to 0.000"

1/2

"

3/8

"
0.211"

1/8

" per 12"
ANSI B17.1 Class 1
000000000
0000
2"
-0.002" to 0.000"
-0.002" to 0.000"

1/2

"

7/16

"
0.295"

1/8

" per 12"
ANSI B17.1 Class 1
000000000
0000
2

1/2

"
-0.002" to 0.000"
-0.002" to 0.000"

1/2

"

7/16

"
0.290"

1/8

" per 12"
ANSI B17.1 Class 1
000000000
0000
3"
-0.002" to 0.000"
-0.002" to 0.000"

1/2

"

7/16

"
0.285"

1/8

" per 12"
ANSI B17.1 Class 1
000000000
0000
4"
-0.002" to 0.000"
-0.002" to 0.000"

1/2

"

7/16

"
0.274"

1/8

" per 12"
ANSI B17.1 Class 1
000000000
0000
1"
-0.002" to 0.000"
-0.002" to 0.000"

5/8

"

1/2

"
0.368"

1/8

" per 12"
ANSI B17.1 Class 1
000000000
0000
1

1/2

"
-0.002" to 0.000"
-0.002" to 0.000"

5/8

"

1/2

"
0.363"

1/8

" per 12"
ANSI B17.1 Class 1
000000000
0000
2"
-0.002" to 0.000"
-0.002" to 0.000"

5/8

"

1/2

"
0.358"

1/8

" per 12"
ANSI B17.1 Class 1
000000000
0000
2

1/2

"
-0.002" to 0.000"
-0.002" to 0.000"

5/8

"

1/2

"
0.353"

1/8

" per 12"
ANSI B17.1 Class 1
000000000
0000
3"
-0.002" to 0.000"
-0.002" to 0.000"

5/8

"

1/2

"
0.348"

1/8

" per 12"
ANSI B17.1 Class 1
000000000
0000
3

1/2

"
-0.002" to 0.000"
-0.002" to 0.000"

5/8

"

1/2

"
0.342"

1/8

" per 12"
ANSI B17.1 Class 1
000000000
0000
4"
-0.002" to 0.000"
-0.002" to 0.000"

5/8

"

1/2

"
0.337"

1/8

" per 12"
ANSI B17.1 Class 1
000000000
0000
4

1/2

"
-0.002" to 0.000"
-0.002" to 0.000"

5/8

"

1/2

"
0.332"

1/8

" per 12"
ANSI B17.1 Class 1
000000000
0000
5"
-0.002" to 0.000"
-0.002" to 0.000"

5/8

"

1/2

"
0.327"

1/8

" per 12"
ANSI B17.1 Class 1
000000000
0000
4"
-0.002" to 0.000"
-0.002" to 0.000"

3/4

"

9/16

"
0.400"

1/8

" per 12"
ANSI B17.1 Class 1
000000000
0000
4

1/2

"
-0.002" to 0.000"
-0.002" to 0.000"

3/4

"

9/16

"
0.395"

1/8

" per 12"
ANSI B17.1 Class 1
000000000
0000
2"
-0.002" to 0.000"
-0.002" to 0.000"

3/4

"

5/8

"
0.484"

1/8

" per 12"
ANSI B17.1 Class 1
000000000
0000
2

1/2

"
-0.002" to 0.000"
-0.002" to 0.000"

3/4

"

5/8

"
0.479"

1/8

" per 12"
ANSI B17.1 Class 1
000000000
0000
3"
-0.002" to 0.000"
-0.002" to 0.000"

3/4

"

5/8

"
0.474"

1/8

" per 12"
ANSI B17.1 Class 1
000000000
0000
3

1/2

"
-0.002" to 0.000"
-0.002" to 0.000"

3/4

"

5/8

"
0.469"

1/8

" per 12"
ANSI B17.1 Class 1
000000000
0000
4"
-0.002" to 0.000"
-0.002" to 0.000"

3/4

"

5/8

"
0.464"

1/8

" per 12"
ANSI B17.1 Class 1
000000000
0000
4

1/2

"
-0.002" to 0.000"
-0.002" to 0.000"

3/4

"

5/8

"
0.458"

1/8

" per 12"
ANSI B17.1 Class 1
000000000
0000
5"
-0.002" to 0.000"
-0.002" to 0.000"

3/4

"

5/8

"
0.453"

1/8

" per 12"
ANSI B17.1 Class 1
000000000
0000
5

1/2

"
-0.002" to 0.000"
-0.002" to 0.000"

3/4

"

5/8

"
0.448"

1/8

" per 12"
ANSI B17.1 Class 1
000000000
0000
6"
-0.002" to 0.000"
-0.002" to 0.000"

3/4

"

5/8

"
0.443"

1/8

" per 12"
ANSI B17.1 Class 1
000000000
0000
3"
-0.004" to 0.000"
-0.004" to 0.000"
1"

3/4

"
0.600"

1/8

" per 12"
ANSI B17.1 Class 1
000000000
0000
3

1/2

"
-0.004" to 0.000"
-0.004" to 0.000"
1"

3/4

"
0.595"

1/8

" per 12"
ANSI B17.1 Class 1
000000000
0000
4"
-0.004" to 0.000"
-0.004" to 0.000"
1"

3/4

"
0.590"

1/8

" per 12"
ANSI B17.1 Class 1
000000000
0000
4

1/2

"
-0.004" to 0.000"
-0.004" to 0.000"
1"

3/4

"
0.585"

1/8

" per 12"
ANSI B17.1 Class 1
000000000
00000
5"
-0.004" to 0.000"
-0.004" to 0.000"
1"

3/4

"
0.579"

1/8

" per 12"
ANSI B17.1 Class 1
000000000
00000
5

1/2

"
-0.004" to 0.000"
-0.004" to 0.000"
1"

3/4

"
0.574"

1/8

" per 12"
ANSI B17.1 Class 1
000000000
00000
6"
-0.004" to 0.000"
-0.004" to 0.000"
1"

3/4

"
0.569"

1/8

" per 12"
ANSI B17.1 Class 1
000000000
00000
4"
-0.004" to 0.000"
-0.004" to 0.000"
1

1/8

"

7/8

"
0.716"

1/8

" per 12"
ANSI B17.1 Class 1
000000000
00000
4

1/2

"
-0.004" to 0.000"
-0.004" to 0.000"
1

1/8

"

7/8

"
0.711"

1/8

" per 12"
ANSI B17.1 Class 1
000000000
00000
5"
-0.004" to 0.000"
-0.004" to 0.000"
1

1/8

"

7/8

"
0.706"

1/8

" per 12"
ANSI B17.1 Class 1
000000000
00000
5

1/2

"
-0.004" to 0.000"
-0.004" to 0.000"
1

1/8

"

7/8

"
0.701"

1/8

" per 12"
ANSI B17.1 Class 1
000000000
00000
6"
-0.004" to 0.000"
-0.004" to 0.000"
1

1/8

"

7/8

"
0.695"

1/8

" per 12"
ANSI B17.1 Class 1
000000000
00000
4"
-0.004" to 0.000"
-0.004" to 0.000"
1

1/4

"
1"
0.842"

1/8

" per 12"
ANSI B17.1 Class 1
000000000
00000
5

1/2

"
-0.004" to 0.000"
-0.004" to 0.000"
1

1/4

"
1"
0.827"

1/8

" per 12"
ANSI B17.1 Class 1
000000000
00000
6"
-0.004" to 0.000"
-0.004" to 0.000"
1

1/4

"
1"
0.822"

1/8

" per 12"
ANSI B17.1 Class 1
000000000
00000
5"
-0.004" to 0.000"
-0.004" to 0.000"
1

1/2

"
1

1/8

"
0.958"

1/8

" per 12"
ANSI B17.1 Class 1
000000000
00000
6"
-0.004" to 0.000"
-0.004" to 0.000"
1

1/2

"
1

1/8

"
0.948"

1/8

" per 12"
ANSI B17.1 Class 1
000000000
00000
40mm
0.000mm to 0.100mm
-0.030mm to 0.000mm
10mm
6mm
5.660mm
1 mm per 100 mm
DIN 6887
000000000
0000
40mm
0.000mm to 0.200mm
-0.036mm to 0.000mm
11mm
8mm
6.670mm
1 mm per 100 mm
DIN 6887
000000000
0000
50mm
0.000mm to 0.200mm
-0.036mm to 0.000mm
11mm
8mm
6.570mm
1 mm per 100 mm
DIN 6887
000000000
0000
60mm
0.000mm to 0.200mm
-0.036mm to 0.000mm
12mm
10mm
7.480mm
1 mm per 100 mm
DIN 6887
000000000
00000
60mm
0.000mm to 0.200mm
-0.043mm to 0.000mm
16mm
16mm
9.500mm
1 mm per 100 mm
DIN 6887
000000000
00000
90mm
0.000mm to 0.200mm
-0.043mm to 0.000mm
18mm
18mm
10.210mm
1 mm per 100 mm
DIN 6887
000000000
00000