With Frame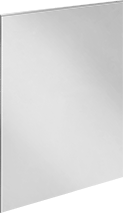 Frameless
These plastic and metal mirrors are more damage-resistant than glass.
To mount acrylic and polycarbonate mirrors, use a fine-point drill or sharp blade to create mounting holes. Apply masking tape to the entry point to minimize delamination.
Polycarbonate mirrors are shatter resistant.
For technical drawings and 3-D models, click on a part number.
Ht.

Wd.

Thick.

Frame
Material
Features
Mount Type
Hardware
Included
Each

With Frame

Acrylic Plastic Mirror

12"
12"

1/4

"
Aluminum
Scratch-Resistant Coating
Screw In
Yes
0000000
0000000
24"
18"

1/4

"
Aluminum
Scratch-Resistant Coating
Screw In
Yes
0000000
000000
36"
24"

1/4

"
Aluminum
Scratch-Resistant Coating
Screw In
Yes
0000000
000000

Frameless

Acrylic Plastic Mirror

12"
12"

1/8

"
__
__
Adhesive Back
__
0000000
00000
12"
12"

1/8

"
__
__
Screw In
No
0000000
00000
12"
12"

1/4

"
__
__
Screw In
No
0000000
00000
18"
12"

1/8

"
__
__
Screw In
No
0000000
00000
18"
12"

1/4

"
__
__
Screw In
No
0000000
00000
24"
18"

1/8

"
__
__
Adhesive Back
__
0000000
00000
24"
18"

1/8

"
__
__
Screw In
No
0000000
00000
24"
18"

1/4

"
__
__
Screw In
No
0000000
00000
30"
24"

1/8

"
__
__
Screw In
No
0000000
00000
30"
24"

1/4

"
__
__
Screw In
No
0000000
000000
36"
24"

1/8

"
__
__
Adhesive Back
__
0000000
000000
36"
24"

1/8

"
__
__
Screw In
No
0000000
00000
36"
24"

1/4

"
__
__
Screw In
No
0000000
000000
48"
36"

1/8

"
__
__
Screw In
No
0000000
000000
48"
36"

1/4

"
__
__
Screw In
No
0000000
000000

Polycarbonate Plastic Mirror

12"
12"

1/8

"
__
__
Screw In
No
0000000
00000
12"
12"

1/4

"
__
__
Screw In
No
0000000
00000
18"
12"

1/8

"
__
__
Screw In
No
0000000
00000
18"
12"

1/4

"
__
__
Screw In
No
0000000
00000
24"
18"

1/8

"
__
__
Screw In
No
0000000
000000
24"
18"

1/4

"
__
__
Screw In
No
0000000
000000
30"
24"

1/8

"
__
__
Screw In
No
0000000
000000
30"
24"

1/4

"
__
__
Screw In
No
0000000
000000
36"
24"

1/8

"
__
__
Screw In
No
0000000
000000
36"
24"

1/4

"
__
__
Screw In
No
0000000
000000
48"
36"

1/8

"
__
__
Screw In
No
0000000
000000
48"
36"

1/4

"
__
__
Screw In
No
0000000
000000