Sanitary
High-Efficiency

Heat Exchangers
Quickly heat or cool beverages and condiments using these heat exchangers, which have a sanitary design certified by 3-A. Also known as plate and frame heat exchangers, they run your product through stacked, corrugated plates and send a liquid of a different temperature in the opposite direction. They're more efficient than shell and tube heat exchangers because they have a larger surface area for heat transfer. Made of stainless steel, the plates and frame won't rust or corrode from contact with liquids. Oil, water, and salt won't break down their Buna-N gaskets. The interior gaskets clip onto the plates instead of being glued, so they're easy to remove for cleaning. Connect these heat exchangers to sanitary quick-clamp fittings using a gasket and a clamp.
Btu/hr. cooling capacity and maximum flow capacity are based on cooling 212˚ F beer wort to 68˚ F using 55˚ F water.
Heat exchangers with mounting feet stand free, or you can mount their frame to the floor using bolt holes in the feet.
Add plates and gaskets to increase heating and cooling capacity or replace existing plates. When replacing your plate, choose one with the same maximum flow capacity. Flow plates have two blocked ports to create extra passes, which makes heat transfer more efficient. Pass plates have four open ports for liquid to flow through.
For technical drawings and 3-D models, click on a part number.
Heat Exchangers—Quick-Clamp Tube Connection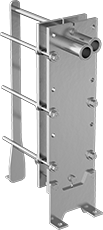 Heat Exchanger

Heating/Cooling




Cap.,




Btu/hr.

Surface


Area,




sq.

ft.

Temp.




Range,




° F

For
Tube
OD
Flange
OD

Max.

Flow


Cap.,


gpm

Max.




Pressure,


psi

Ht.

Wd.

Lg.

No.


of

Dia.

Each
Each

With Mounting Feet

72,500
5.1
-20° to 250°
1

1/2

"
1.984"
1

1/2

150
26"
7

1/4

"
18

9/16

"
3

9/16

"
0000000
000000000
0000000
00000
145,000
9.7
-20° to 250°
1

1/2

"
1.984"
3
150
26"
7

1/4

"
18

9/16

"
3

9/16

"
0000000
00000000
0000000
0000
224,500
14.3
-20° to 250°
1

1/2

"
1.984"
4
150
26"
7

1/4

"
18

9/16

"
3

9/16

"
0000000
00000000
0000000
0000
311,000
18.9
-20° to 250°
1

1/2

"
1.984"
6
150
26"
7

1/4

"
22

9/16

"
3

9/16

"
0000000
00000000
0000000
0000
398,000
23.5
-20° to 250°
1

1/2

"
1.984"
7
150
26"
7

1/4

"
22

9/16

"
3

9/16

"
0000000
00000000
0000000
0000
521,000
28.1
-20° to 250°
1

1/2

"
1.984"
9

1/2

150
26"
7

1/4

"
26

9/16

"
3

9/16

"
0000000
00000000
0000000
0000
560,000
33.2
-20° to 250°
1

1/2

"
1.984"
10
150
32"
11"
17"
3

9/16

"
0000000
00000000
0000000
00000
745,000
41.3
-20° to 250°
1

1/2

"
1.984"
13

1/2

150
32"
11"
21"
3

9/16

"
0000000
00000000
0000000
00000
839,000
49.4
-20° to 250°
1

1/2

"
1.984"
15
150
32"
11"
21"
3

9/16

"
0000000
00000000
0000000
00000
990,500
57.5
-20° to 250°
1

1/2

"
1.984"
18
150
32"
11"
25"
3

9/16

"
0000000
00000000
0000000
00000
1,244,000
85.4
-20° to 250°
2"
2.516"
22

1/2

150
35

7/8

"
13"
29"
3

9/16

"
0000000
00000000
0000000
00000
1,489,500
99.4
-20° to 250°
2"
2.516"
27
150
39

3/16

"
13"
41"
3

9/16

"
0000000
00000000
0000000
00000
1,681,000
113.4
-20° to 250°
2"
2.516"
30
150
39

3/16

"
13"
41"
3

9/16

"
0000000
00000000
0000000
00000
1,865,500
127.4
-20° to 250°
2"
2.516"
33

1/2

150
39

3/16

"
13"
41"
3

9/16

"
0000000
00000000
0000000
00000
2,986,000
195.7
-20° to 250°
2"
2.516"
54
150
49

3/16

"
13"
41"
3

9/16

"
0000000
00000000
0000000
00000

Flow Plate with Top Ports and Gasket

Flow Plate with Bottom Ports and Gasket

Pass Plate with Top and Bottom Ports and Gasket
For

Max.

Flow


Cap.,

gpm

Ht.

Wd.

Thick.

No.

of
Top Ports

No.

of
Bottom
Ports
Material
Gasket
Material
Gasket
Type
Each

Flow Plates with Top Ports

40
20"
6"
0.6"
2
__
316 Stainless Steel
Buna-N Rubber
Clip On
0000000
000000
100
26"
8"
0.6"
2
__
316 Stainless Steel
Buna-N Rubber
Clip On
0000000
00000
150
29

1/2

"
10"
0.6"
2
__
316 Stainless Steel
Buna-N Rubber
Clip On
0000000
000000
200
40"
10"
0.6"
2
__
316 Stainless Steel
Buna-N Rubber
Clip On
0000000
000000

Flow Plates with Bottom Ports

40
20"
6"
0.6"
__
2
316 Stainless Steel
Buna-N Rubber
Clip On
0000000
00000
100
26"
8"
0.6"
__
2
316 Stainless Steel
Buna-N Rubber
Clip On
0000000
00000
150
29

1/2

"
10"
0.6"
__
2
316 Stainless Steel
Buna-N Rubber
Clip On
0000000
000000
200
40"
10"
0.6"
__
2
316 Stainless Steel
Buna-N Rubber
Clip On
0000000
000000

Pass Plates with Top Ports and Bottom Ports

40
20"
6"
0.6"
2
2
316 Stainless Steel
Buna-N Rubber
Clip On
0000000
00000
100
26"
8"
0.6"
2
2
316 Stainless Steel
Buna-N Rubber
Clip On
0000000
00000
150
29

1/2

"
10"
0.6"
2
2
316 Stainless Steel
Buna-N Rubber
Clip On
0000000
000000
200
40"
10"
0.6"
2
2
316 Stainless Steel
Buna-N Rubber
Clip On
0000000
000000

Replacement Clip On Gasket

Replacement Glue On Gasket
For

Max.

Flow


Cap.,

gpm

Ht.

Wd.

Thick.

Material
Each

Clip On

40
20"
6"
0.3"
Buna-N Rubber
0000000
000000
100
26"
8"
0.3"
Buna-N Rubber
0000000
00000
150
29

1/2

"
10"
0.3"
Buna-N Rubber
0000000
00000
200
40"
10"
0.3"
Buna-N Rubber
0000000
00000

Glue On

40
20"
6"
0.3"
Buna-N Rubber
0000000
00000
100
26"
8"
0.3"
Buna-N Rubber
0000000
00000
150
29

1/2

"
10"
0.3"
Buna-N Rubber
0000000
00000
200
40"
10"
0.3"
Buna-N Rubber
0000000
00000