Heavy Duty Positioning Arms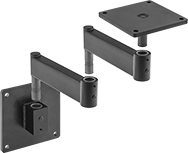 Arm Built
with
Wall-Mount
Pin
Base,
Two Rigid
Connectors,
and Pivoting Mounting Plate
Heavy duty construction adds strength for higher load capacities than other positioning arms. Choose a complete arm or select a base, connectors, and plate, bracket, or tray to build a complete arm. The load capacity of an assembled arm is determined by the component with the lowest capacity.
For technical drawings and 3-D models, click on a part number.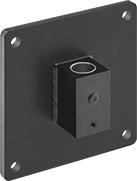 Wall-
and
T-Slot
Rail-Mount
Pin Base
Pin bases are for use with rigid and counterbalancing connectors. Wall- and T-slot rail-mount pin bases do not include fasteners for T-slotted framing.
Mount.


Location
For Single


T-Slot


Rail

Ht.

For

Double,


Quad

T-Slot


Rail

Ht.

Lg.

Wd.

Ht.

For
Pin


Dia.

Max.

Load


Capacity,




lbs.

Material
Color
Fasteners
Included

No.


of
Holes
Hole


Dia.

Each
Bench
__
__
6"
6"
3

1/8

"

7/8

"
100
Powder-Coated Steel
Black
No
4

13/32

"
0000000
000000
Wall
__
__
1

7/8

"
6"
6"

7/8

"
100
Powder-Coated Steel
Black
No
4

13/32

"
0000000
00000
Wall, T-Slot Rail
1

1/2

", 30mm, 40mm, 45mm
3", 60mm, 80mm, 90mm
3"
2"
4

1/2

"

7/8

"
50
Powder-Coated Steel
Black
No
2

13/32

"
00000000
00000
Wall, T-Slot Rail
1

1/2

", 30mm, 40mm, 45mm
3", 60mm, 80mm, 90mm
7

1/8

"
2

1/2

"
6"

7/8

"
75
Powder-Coated Steel
Black
No
3

13/32

"
00000000
000000