Ball-Grip

Positioning Arms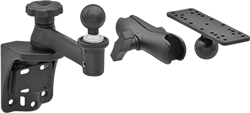 Arm Built
with Rotating Complete Arm with
Ball,
Rigid
Connector,
and Universal Mounting Plate
Ball-and-socket connections allow 360° positioning. Choose a complete arm or select a base, connectors, and a plate, grip, holder, or tray to build a complete arm.
For technical drawings and 3-D models, click on a part number.

Reducing connector joins components with a 1 1/2" dia. ball to those with a 1" dia. ball. It has handles to lock joints into position.
Lg.

For Ball


Dia.

Max.

Load


Capacity,

lbs.

Material
Each
5

1/4

"
1"; 1

1/2

"
1
Plastic
00000000
000000