Measured in decibels (dB), volume ratings indicate how much noise equipment makes. Some common volume levels include a whisper @ 20 dB, a refrigerator @ 40 dB, a conversation @ 60 dB, and a light machine shop @ 90 dB. OSHA recommends hearing protection for exposure to 80 dB and greater.
Air-Powered

Portable Blowers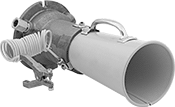 Use your compressed air source to power these blowers. They are powerful enough for use with flexible duct, yet light enough to carry from job to job. Use them for equipment cooling, material conveying, drying, ventilating, and exhausting.
Note: Airflow is based on an air supply of 80 psi.
For technical drawings and 3-D models, click on a part number.
Airflow,


cfm
Airflow
@
Duct

Lg.

Volume
Air


Consumption,


cfm

Max.

Air


Pressure,


psi
Air Inlet
Pipe
Size

For
Duct


Dia.

O'all




Dp.

Base


Dia.

Temp.




Range,




°F

Housing
Material

Mount.


Fasteners
Included
Each
Each

NPT Female Air Inlet

With Galvanized Steel Diffuser

1,000
600 cfm @ 50 ft.
70 dBA @ 5 ft.
50
150

1/2

6"
16

3/4

"
7

5/16

"
-15° to 350°
Aluminum
No
0000000
0000000
0000000
0000000
7,300
4,000 cfm @ 50 ft.
80 dBA @ 5 ft.
380
150
1

16"
48"
17"
-15° to 350°
Aluminum
No
0000000
00000000
0000000
000000

With

Powder-Coated

Steel Diffuser

1,500
Not Rated
80 dBA @ 15 ft.
60
150

1/2

6"
16

1/2

"
7

1/2

"
-15° to 350°
Aluminum
No
0000000
000000
0000000
000000
1,700
1,350 cfm @ 50 ft.
80 dBA @ 15 ft.
60
150

1/2

8"
33"
7

1/2

"
-15° to 350°
Aluminum
No
0000000
000000
0000000
000000
4,500
3,580 cfm @ 50 ft.
85 dBA @ 15 ft.
125
150
1

12"
44

1/4

"
11

1/2

"
-15° to 350°
Aluminum
No
0000000
00000000
0000000
000000

With Plastic Diffuser

1,500
Not Rated
80 dBA @ 15 ft.
60
150

1/2

6"
16

1/2

"
7

1/2

"
-15° to 160°
Aluminum
No
0000000
000000
0000000
000000
1,700
1,350 cfm @ 50 ft.
80 dBA @ 15 ft.
60
150

1/2

8"
33"
7

1/2

"
-15° to 160°
Aluminum
No
0000000
000000
0000000
000000
4,500
3,580 cfm @ 50 ft.
85 dBA @ 15 ft.
125
150
1

12"
44

1/4

"
11

1/2

"
-15° to 160°
Aluminum
No
0000000
00000000
0000000
000000