Precision Portable Temperature Controllers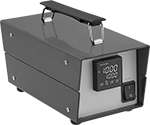 These lightweight controllers have a carrying handle. They read temperature with a highly sensitive Type J thermocouple probe (sold separately) to turn heating equipment on or off at a specified temperature in critical process applications. Use the keypad to set the actuation point. All controllers are SPST (single pole, single throw). They have a control relay that turns one circuit from off to on (normally open). All come with a flat-pin connector for attaching a thermocouple.
For technical drawings and 3-D models, click on a part number.
Temp.


Range

Temp.


Accuracy

No.

of
Control
Relays
Reset
Type
Voltage


(Electrical Phase)

Output
Voltage
Current
NEMA
Style
Cord


Lg.,




ft.

Ht.

Wd.

Dp.

Each

Mechanical Relay

For Type J Thermocouple Probe

-180° to 1830° F/-120° to 1000° C
±2° F/±1° C
1
Automatic
120V AC (Single)
120V AC
16 A @ 120 V AC
5-20
5
1

7/8

"
1

7/8

"
8

11/16

"
0000000
0000000
-180° to 1830° F/-120° to 1000° C
±2° F/±1° C
1
Automatic
240V AC (Single)
240V AC
16 A @ 240 V AC
6-20
5
1

7/8

"
1

7/8

"
8

11/16

"
0000000
000000