Separate 3D-printed parts from 3D-printer plates without damaging either one of them. These scrapers have a rounded edge to prevent nicks and scrapes.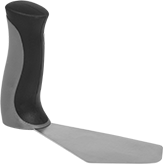 Tapered Blade—Unlike conventional putty knives or spatulas, scrapers with a tapered blade have a right-angle handle that makes it easier to slide them under parts and loosen them from the plates. The rubber handle gives you a nonslip grip.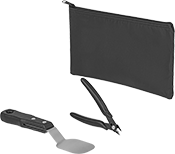 Bent Blade—Scrapers with a bent blade come with a wire cutter, which helps remove 3D prints and solid supports. Use the nylon zipper bag to store these scrapers.
2"
3

3/4

"
Stainless Steel
Rounded
Rigid
4

3/4

"
Wood
Black

Nylon Zipper Bag

,

Wire Cutter

3518N13
$50.88