Gauge Siphon Tubes

A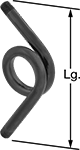 B

C

D
Also known as pigtails, these siphon tubes protect dry gauges from steam and high-temperature fluids. Add water to the tube to create a protective barrier between your gauge and process media.
Style C requires less maintenance than Styles A, B, and D because the extra bends prolong water retention.
For technical drawings and 3-D models, click on a part number.

A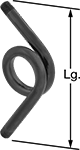 B

C
Style
Pipe
Size

Lg.

Max.

Pressure
Specifications Met
Each

Brass

A

1/4

4"
1,000 psi @ 400° F
ASTM B43
0000000
000000
A

1/4

4"
240 psi @ 400° F
ASTM B43
0000000
00000
A

1/4

5

5/8

"
1,000 psi @ 400° F
ASTM B43
0000000
00000
A

1/4

5

5/8

"
240 psi @ 400° F
ASTM B43
0000000
00000
B

1/4

6

1/2

"
1,000 psi @ 400° F
ASTM B43
0000000
00000
B

1/4

6

1/2

"
240 psi @ 400° F
ASTM B43
0000000
00000
C

1/4

7

1/2

"
1,000 psi @ 400° F
ASTM B43
0000000
00000
C

1/4

7

1/2

"
240 psi @ 400° F
ASTM B43
0000000
00000

304 Stainless Steel

A

1/4

5

1/2

"
1,500 psi @ 700° F
ASTM A312
0000000
00000
A

1/4

5

1/2

"
440 psi @ 750° F
ASTM A312
0000000
00000

316 Stainless Steel

A

1/4

5

1/2

"
1,500 psi @ 750° F
ASTM A312
0000000
000000
A

1/4

5

1/2

"
450 psi @ 750° F
ASTM A312
0000000
00000
A

1/2

8

7/8

"
1,500 psi @ 800° F
ASTM A312
0000000
000000
A

1/2

8

7/8

"
730 psi @ 800° F
ASTM A312
0000000
000000
B

1/4

6

1/2

"
1,500 psi @ 750° F
ASTM A312
0000000
000000
B

1/4

6

1/2

"
450 psi @ 750° F
ASTM A312
0000000
00000
B

1/2

7

1/2

"
1,500 psi @ 800° F
ASTM A312
0000000
000000
B

1/2

7

1/2

"
730 psi @ 800° F
ASTM A312
0000000
000000
C

1/4

9

1/2

"
1,500 psi @ 750° F
ASTM A312
0000000
000000
C

1/4

9

1/2

"
450 psi @ 750° F
ASTM A312
0000000
00000
C

1/2

12"
1,500 psi @ 800° F
ASTM A312
0000000
000000
C

1/2

12"
730 psi @ 800° F
ASTM A312
0000000
000000

Seamless Steel

A

1/4

5

1/2

"
2,000 psi @ 750° F
ASTM A106 Grade B
0000000
00000
A

1/4

5

1/2

"
580 psi @ 750° F
ASTM A106 Grade B
0000000
00000
A

1/2

8

7/8

"
1,000 psi @ 700° F
ASTM A106 Grade B
0000000
00000
A

1/2

8

7/8

"
1,700 psi @ 800° F
ASTM A106 Grade B
0000000
00000
B

1/4

6

1/2

"
2,000 psi @ 750° F
ASTM A106 Grade B
0000000
00000
B

1/4

6

1/2

"
580 psi @ 750° F
ASTM A106 Grade B
0000000
00000
C

1/4

7

1/4

"
2,000 psi @ 750° F
ASTM A106 Grade B
0000000
00000
C

1/4

7

1/4

"
580 psi @ 750° F
ASTM A106 Grade B
0000000
00000

Welded Steel

A

1/4

5

1/2

"
1,000 psi @ 400° F
ASTM A53 Grade F
0000000
00000
A

1/4

5

1/2

"
300 psi @ 400° F
ASTM A53 Grade F
0000000
0000
A

1/2

8

7/8

"
1,000 psi @ 400° F
ASTM A53 Grade F
0000000
00000
B

1/4

6

1/2

"
1,000 psi @ 400° F
ASTM A53 Grade F
0000000
00000
B

1/4

6

1/2

"
300 psi @ 400° F
ASTM A53 Grade F
0000000
00000
C

1/4

7

1/4

"
1,000 psi @ 400° F
ASTM A53 Grade F
0000000
00000
C

1/4

7

1/4

"
300 psi @ 400° F
ASTM A53 Grade F
0000000
00000