Film with Copper Ion Finish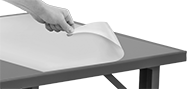 Adhesive Mount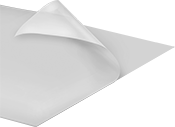 Film
Keep frequently touched elevator panels, kiosks, counters, and other large surfaces free of germs. This film has a copper ion finish on the coarse side that stops microbes such as bacteria, mold, mildew, and fungi from growing. It's semi-clear, so it won't obscure details of the surface below. Do not clean the film with detergents or disinfectants. Replace it after six months of use or if it becomes damaged or worn.
Length
Width
Thickness
Texture
Color
Clarity
Each

Polyethylene Plastic

Sheet

48"
12"
0.006"
Coarse
Brown
Semi-Clear
0000000
000000
Copper Covers for Door Handles and Bars
1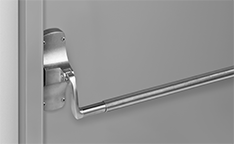 2

1

2
Limit the spread of germs by adding these copper covers to door handles, bars, and buttons. The copper kills bacteria, viruses, mold, and other microbes within two hours. To maintain high performance, keep them free of dirt with regular cleanings. These copper covers also resist corrosion, but they'll oxidize over time and form a green tarnish; the tarnish won't affect the bacteria-killing properties. Secure them to your surface using the adhesive back, which fully bonds in one to two days. For maximum durability, cover them with painter's tape while they set.
Styles 1 and 2 fit on standard 1" diameter handles and bars.
Tape with Silver Ion Finish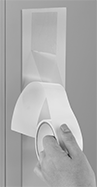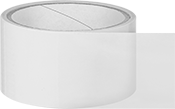 Apply this tape to handles, pull and push bars, and other frequently-touched surfaces to help limit the spread of germs. It has a silver ion finish that inhibits the growth of microbes such as bacteria, mold, mildew, and fungi for up to six months. The tape's adhesive back works in indoor and outdoor settings and doesn't leave residue when you peel it off. Clear in color, this tape doesn't obscure details of the surface below. Rolls fit on standard packing tape dispensers.