Easy-Open

Hanging Pulleys for Wire

Rope—

For Horizontal Pulling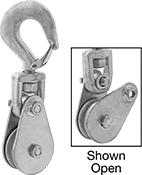 A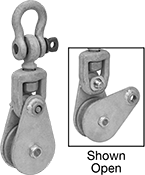 B

C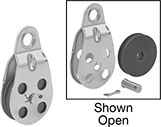 D

Also known as snatch blocks, these pulleys open so it's easier to feed the rope through the housing—a free rope end is not needed. Use them to assist with horizontal pulling or to guide a rope.
Style D pulleys have a corrosion-resistant stainless steel housing.
For technical drawings and 3-D models, click on a part number.
Style
For
Rope


Dia.

Capacity,




lbs.

OD

Wd.

Overall


Lg.

Overall


Ht.

Hook
Opening


Wd.

Hook


Thick.

Eye


Dia.

Eye


Thick.

Material
Housing
Material
Each

Without Bearing

Swivel Latching Hook

A

3/8

"
4,000
3"
1

1/2

"
3"
10

5/16

"
1"

3/4

"
__
__
Steel
Steel
0000000
0000000
A

1/2

"
8,000
4

1/2

"
2

1/16

"
4

1/2

"
14

3/4

"
1

5/16

"
1

1/16

"
__
__
Steel
Steel
0000000
000000

Swivel Shackle

B

3/8

"
4,000
3"
1

1/2

"
3"
10

3/8

"
__
__
1

1/4

"

1/2

"
Steel
Steel
0000000
000000
B

1/2

"
8,000
4

1/2

"
2

3/8

"
4

1/2

"
15

5/16

"
__
__
1

13/16

"

3/4

"
Steel
Steel
0000000
000000
B

3/4

"
16,000
6"
2

3/8

"
6"
20

3/16

"
__
__
2

1/2

"
1"
Steel
Steel
0000000
00000000

Rigid Clevis

C

3/8

"
4,000
3"
1

1/2

"
3"
4

7/8

"
__
__
__
__
Steel
Steel
0000000
000000
C

1/2

"
8,000
4

1/4

"
2"
4

1/4

"
7

3/4

"
__
__
__
__
Steel
Steel
0000000
000000

Rigid Eye

D

1/8

"
975
1"

7/16

"
1"
2

5/8

"
__
__

3/8

"

1/8

"
Nylon Plastic

Stainless Steel
00000000
00000
D

1/4

"
1,850
1

3/4

"

1/2

"
1

3/4

"
3

1/4

"
__
__

3/8

"

3/16

"
Nylon Plastic

Stainless Steel
00000000
00000