Easy-Open

Hanging Pulleys for Wire

Rope—

For Lifting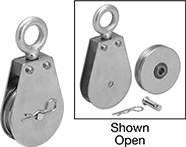 A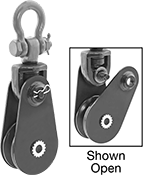 B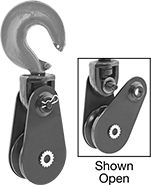 C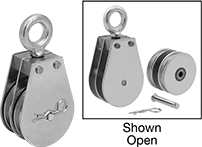 D

Also known as snatch blocks, these pulleys open so it's easier to feed the rope through the housing—a free rope end is not needed.
Pulleys with two grooves are for use where multiple pulleys move a single load, such as block and tackle systems. They require about half the force of a single-groove pulley to move the same load.
Latch kits (sold separately) add a latch to the swiveling hook on Style C to keep rope secure.
Warning: Never use to lift people or items over people.
For technical drawings and 3-D models, click on a part number.
Style
For
Rope


Dia.

Capacity,




lbs.

OD

Wd.

Overall


Lg.

Overall


Ht.

Eye


Dia.

Eye


Thick.

Hook
Opening


Wd.

Hook


Thick.

Material
Specifications
Met
Each
Each

Single-Groove

Without Bearing

Swivel Eye

A

3/16

"
600
2"

5/8

"
2"
4

1/4

"

5/8

"

5/16

"
__
__
Steel
ASME B30.26
0000000
000000
000000
00
A

1/4

"
675
2

1/2

"

5/8

"
2

1/2

"
5"

7/8

"

7/16

"
__
__
Steel
ASME B30.26
0000000
00000
000000
00
A

5/16

"
1,550
3

1/2

"
1"
3

1/2

"
7

5/8

"
1

3/16

"

7/16

"
__
__
Steel
ASME B30.26
0000000
00000
000000
00
A

3/8

"
1,550
3

1/2

"
1"
3

1/2

"
7

5/8

"
1

3/16

"

7/16

"
__
__
Steel
ASME B30.26
0000000
00000
000000
00

Swivel Shackle

B

1/2

"
8,800
4

1/2

"
1

7/8

"
4

1/2

"
13

1/8

"
1

3/16

"

11/16

"
__
__
Steel
ASME B30.26
0000000
000000
000000
00
B

3/4

"
17,600
6"
2

3/8

"
6"
18

7/8

"
2

1/4

"
1

7/32

"
__
__
Steel
ASME B30.26
0000000
000000
000000
00

Swivel Hook

C

3/8

"
4,400
3"
1

1/2

"
3"
9

3/4

"
__
__
1"

3/4

"
Steel
ASME B30.26
0000000
000000
00000000
000000
C

1/2

"
8,800
4

1/2

"
2"
4

1/2

"
15

1/8

"
__
__
1

3/16

"
1

5/16

"
Steel
ASME B30.26
0000000
000000
00000000
00000
C

3/4

"
17,600
6"
2

1/4

"
6"
18

7/8

"
__
__
1

11/16

"
1

3/4

"
Steel
ASME B30.26
0000000
000000
00000000
00000
C

7/8

"
26,400
6"
2

5/16

"
6"
19

3/4

"
__
__
2

1/4

"
1

5/8

"
Steel
ASME B30.26
0000000
00000000
00000000
00000

Double-Groove

Without Bearing

Swivel Eye

D

3/16

"
600
2"
1

7/32

"
2"
4

1/4

"

5/8

"

5/16

"
__
__
Steel
ASME B30.26
0000000
00000
000000
00
D

5/16

"
1,550
3

1/2

"
1

19/32

"
3

1/2

"
7

5/8

"
1

3/16

"

7/16

"
__
__
Steel
ASME B30.26
0000000
00000
000000
00