Hanging Pulleys for Wire
Rope—

For Horizontal Pulling

A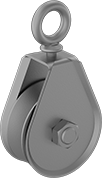 B
C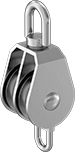 D

Hang these pulleys from hooks, screws, and bolts to assist with horizontal pulling or to guide a rope.
Pulleys with two grooves are for use where multiple pulleys move a single load, such as block and tackle systems. They require about half the force of a single-groove pulley to move the same load. They have a bracket on the bottom for tying off one end of your wire rope.
Pulleys with a bearing are easier to turn than pulleys without a bearing.
Nylon is lighter in weight than metal. Aluminum is corrosion resistant. Stainless steel is the most corrosion resistant.
Pulley with carabiner can mount to steel framing or hang as part of your rigging system.
For technical drawings and 3-D models, click on a part number.
For
Rope


Dia.

Capacity,




lbs.

OD

Wd.

Overall


Lg.

Overall


Ht.

Eye


Dia.

Eye


Thick.

Material
Housing
Material
Each

Single-Groove

Without Bearing

Swivel Eye

A

1/4

"
150
1

3/8

"

9/16

"
1

3/8

"
2

13/16

"

3/8

"

3/16

"
Nylon Plastic

Stainless Steel
0000000
000000
A

1/2

"
1,650
2"
1

5/16

"
2"
4

7/8

"

3/4

"

5/16

"
Stainless Steel
Stainless Steel
0000000
00000
A

9/16

"
2,475
3"
1

5/16

"
3"
7"

15/16

"

7/16

"
Stainless Steel
Stainless Steel
0000000
00000
A

5/8

"
4,175
4"
1

1/2

"
4"
8"

15/16

"

1/2

"
Stainless Steel
Stainless Steel
0000000
000000

Single-Groove

With Bearing

Swivel Eye

A

3/16

"
150
1

1/4

"

9/16

"
1

1/4

"
2

3/4

"

3/8

"

3/16

"
Steel
Stainless Steel
0000000
00000
B

1/2

"
2,000
4

1/2

"
2

1/4

"
4

1/2

"
8

7/8

"
1

1/4

"

1/2

"
Steel
Steel
0000000
000000

Rigid Carabiner

C

3/16

"
900
3

3/8

"
1

3/16

"
4"
7

3/8

"

3/4

"

5/16

"
Nylon Plastic

Aluminum
0000000
000000

Double-Groove

Without Bearing

Swivel Eye

D

5/16

"
1,100
1"
1

31/32

"
1"
3

3/4

"

1/2

"

1/4

"
Stainless Steel
Stainless Steel
0000000
00000
D

5/16

"
1,250
1

1/4

"
2

1/32

"
1

1/4

"
4

1/2

"

9/16

"

1/4

"
Stainless Steel
Stainless Steel
0000000
00000
D

7/16

"
1,850
2"
2

29/64

"
2"
5

1/2

"

3/4

"

5/16

"
Stainless Steel
Stainless Steel
0000000
00000