Mounted Pulleys for Wire
Rope—

For Horizontal Pulling

1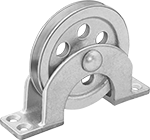 2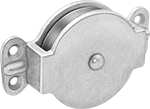 3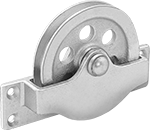 4

5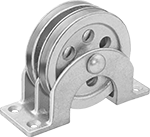 6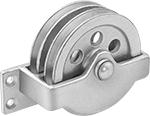 7



Mount these pulleys to a flat surface to assist with horizontal pulling or to guide a rope.
Pulleys with two grooves are for use where multiple pulleys move a single load, such as block and tackle systems. They require about half the force of a single-groove pulley to move the same load.
Pulleys with a bearing are easier to turn than pulleys without a bearing.
Stainless steel is more corrosion resistant than steel.
For technical drawings and 3-D models, click on a part number.
For
Rope


Dia.

Capacity,




lbs.

OD

Wd.

Overall


Lg.

Overall


Ht.

Material
Housing
Material

No.


of

Dia.

Ctr.-to-Ctr.




(A)

Ctr.-to-Ctr.




(B)

Each

Single-Groove

Without Bearing

1

1/4

"
Not Rated
2"
1"
3

1/4

"
2

1/2

"
Steel
Steel
2

1/4

"
2

1/4

"
__
0000000
000000
1

3/8

"
Not Rated
3"
1

5/32

"
4

3/4

"
3

1/2

"
Steel
Steel
2

1/4

"
3

5/8

"
__
0000000
00000
2

3/16

"
Not Rated
2

1/2

"
1

3/32

"
3

3/4

"
2

3/4

"
Steel
Steel
4

3/16

"
3

3/16

"

7/16

"
0000000
00000
2

1/4

"
Not Rated
3

1/4

"
1

7/16

"
4

3/4

"
3

3/8

"
Steel
Steel
4

1/4

"
4

1/8

"

13/16

"
0000000
00000
2

3/8

"
Not Rated
4

1/2

"
1

5/8

"
6

5/16

"
4

3/4

"
Steel
Steel
4

1/4

"
5

1/2

"

13/16

"
0000000
00000
3

1/4

"
Not Rated
2"

7/8

"
4

1/8

"

15/16

"
Steel
Steel
4

1/4

"
3

7/16

"

13/16

"
0000000
00000
3

3/8

"
Not Rated
3"
1

1/8

"
5

9/16

"
1

1/8

"
Steel
Steel
4

1/4

"
4

3/4

"
1

1/16

"
0000000
00000
4

3/16

"
Not Rated
2

1/2

"

15/16

"
4"
2

1/2

"
Steel
Steel
4

3/16

"
3

1/2

"

9/16

"
0000000
00000
4

1/4

"
Not Rated
3

1/4

"
1

1/16

"
5"
3

1/4

"
Steel
Steel
4

3/16

"
4

3/8

"

13/16

"
0000000
00000
4

3/8

"
Not Rated
4

1/2

"
1

1/8

"
7"
4

1/2

"
Steel
Steel
4

1/4

"
6

1/4

"

3/4

"
0000000
00000

Single-Groove

With Bearing

5

3/16

"
150
1

1/4

"

9/16

"
1

1/4

"
1

3/4

"
Steel
Stainless Steel
3

3/16

"
__
__
0000000
00000

Double-Groove

Without Bearing

6

3/16

"
Not Rated
2

1/2

"
1

7/16

"
3

3/4

"
2

3/4

"
Steel
Steel
4

3/16

"
3

1/4

"

7/8

"
0000000
00000
6

1/4

"
Not Rated
3

1/4

"
1

7/8

"
5"
3

1/2

"
Steel
Steel
4

1/4

"
4

1/8

"
1

1/16

"
0000000
00000
7

1/4

"
Not Rated
3

1/4

"
1

7/8

"
5"
3

1/4

"
Steel
Steel
4

3/16

"
4

7/16

"

3/4

"
0000000
00000