Pulleys for Wire
Rope—

For Horizontal Pulling

C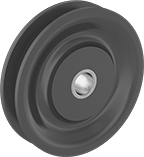 E

F

A

G

H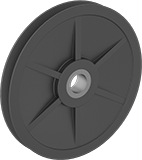 D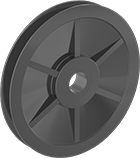 B

Also known as sheaves, use these pulleys to assist with horizontal pulling or to guide a rope.
Pulleys with a bearing are easier to turn than pulleys without a bearing. Ball bearings and needle-roller bearings allow for easier turns than sleeve bearings.
Acetal and nylon are lightweight and corrosion resistant. Stainless steel is the most corrosion resistant.
For technical drawings and 3-D models, click on a part number.
For Rope


Dia.

Capacity,

lbs.

OD
Pulley


Dia.

For Shaft


Dia.

Wd.

Material
Each

With Sleeve Bearing

C

1/4

"
950
3"
2

3/8

"

3/8

"

9/16

"
Iron
0000000
000000
C

3/8

"
2,000
4"
3

1/4

"

3/4

"

13/16

"
Iron
0000000
000000
E

1/2

"
3,000
5"
3

7/8

"

3/4

"
1

1/16

"
Iron
0000000
000000
E

7/8

"
4,300
5

7/8

"
4

3/8

"
1

1/2

"
1

3/4

"
Steel
0000000
000000
F

1/8

"
1,000
2

1/4

"
1

7/8

"

1/4

"

13/16

"
Stainless Steel
00000000
00000
F

3/16

"
1,000
2"
1

1/2

"

3/8

"

9/16

"
Stainless Steel
000000000
00000
F

3/16

"
1,500
3

1/4

"
2

3/4

"

3/8

"

15/16

"
Stainless Steel
00000000
00000
F

1/4

"
1,500
2

1/2

"
1

7/8

"

5/8

"

11/16

"
Stainless Steel
000000000
00000
F

1/4

"
3,000
4

1/4

"
3

1/2

"

1/2

"
1

1/8

"
Stainless Steel
00000000
000000
F

5/16

"
5,000
5

1/4

"
4

3/8

"

1/2

"
1

3/8

"
Stainless Steel
00000000
000000
F

3/8

"
8,000
6

1/4

"
5

1/4

"

1/2

"
1

5/8

"
Stainless Steel
00000000
000000

With Ball Bearing

A

1/32

"
10

5/8

"

1/2

"

1/8

"

1/8

"
Nylon Plastic

0000000
00000
A

3/64

"
10

3/4

"

5/8

"

1/8

"

3/16

"
Nylon Plastic

0000000
00000
A

3/64

"
90
1

1/16

"

7/8

"

3/16

"

1/4

"
Nylon Plastic

0000000
00000
A

3/32

"
90
1

1/2

"
1

1/4

"

1/4

"

5/16

"
Nylon Plastic

0000000
00000
C

1/16

"
90
1

1/4

"
1

1/16

"

3/16

"

1/4

"
Nylon Plastic

0000000
00000
C

1/8

"
90
1

3/4

"
1

3/8

"

1/4

"

5/16

"
Nylon Plastic

0000000
00000
C

1/4

"
410
2"
1

1/2

"

3/8

"

1/2

"
Steel
00000000
00000
F

1/8

"
1,000
2

1/4

"
1

7/8

"

3/8

"

13/16

"
Stainless Steel
0000000
00000
F

3/16

"
1,200
3

1/4

"
2

3/4

"

1/2

"

15/16

"
Stainless Steel
0000000
000000
F

1/4

"
1,200
4

1/4

"
3

1/2

"

1/2

"
1

1/16

"
Stainless Steel
0000000
000000
G

3/64

"
35

1/2

"

3/8

"

1/8

"

3/16

"
Steel
0000000
0000
G

3/32

"
175
1

1/16

"

7/8

"

3/16

"

5/16

"
Steel
0000000
0000
G

1/8

"
125
1"

3/4

"

3/16

"

3/8

"
Steel
0000000
0000
G

3/16

"
175
1

1/4

"

7/8

"

1/4

"

7/16

"
Steel
0000000
0000
G

1/4

"
275
1

3/4

"
1

1/4

"

3/8

"

1/2

"
Steel
0000000
0000
H

3/16

"
85
1

1/4

"
1"

5/32

"

7/16

"
Steel
0000000
00000
H

7/32

"
300
2

3/4

"
2

3/16

"

5/8

"

9/16

"
Steel
0000000
00000
H

11/32

"
300
2

3/4

"
2

3/8

"

3/8

"

9/16

"
Steel
0000000
00000
H

11/32

"
300
3"
2

3/8

"

3/8

"

11/16

"
Steel
0000000
00000
H

3/8

"
300
2

7/8

"
2

9/16

"

1/4

"

1/2

"
Steel
0000000
00000
H

3/8

"
300
3

1/16

"
2

9/16

"

3/8

"

1/2

"
Steel
0000000
00000
H

3/8

"
450
4

1/16

"
3

9/16

"

3/8

"

3/4

"
Steel
0000000
00000
H

7/16

"
325
3

3/8

"
2

11/16

"

3/8

"

11/16

"
Steel
0000000
00000
H

1/2

"
275
3"
2

5/8

"

5/16

"

3/4

"
Steel
0000000
00000
H

17/32

"
300
2

7/8

"
2

1/4

"

1/2

"

13/16

"
Steel
0000000
00000

With

Needle-Roller

Bearing

C

3/32

"
200
2

1/2

"
2

3/16

"

1/4

"

1/4

"
Nylon Plastic

0000000
00000
C

3/16

"
800
2

1/2

"
2"

1/2

"

7/16

"
Nylon Plastic

0000000
00000
C

3/16

"
800
3

1/2

"
3"

1/2

"

7/16

"
Nylon Plastic

0000000
00000
C

1/4

"
1,400
4"
3

3/8

"

3/4

"

1/2

"
Nylon Plastic

0000000
00000
C

1/4

"
1,400
5"
4

3/8

"

3/4

"

1/2

"
Nylon Plastic

0000000
00000
C

3/8

"
1,600
3"
2

9/16

"

1/2

"

5/8

"
Nylon Plastic

00000000
00000
D

5/16

"
1,600
6"
5

1/4

"

3/4

"

5/8

"
Nylon Plastic

0000000
00000

Without Bearing

A

1/32

"
Not Rated

3/8

"

5/16

"

1/8

"

1/8

"
Acetal Plastic

0000000
0000
A

1/32

"
Not Rated

5/8

"

1/2

"

1/8

"

1/8

"
Acetal Plastic

0000000
0000
A

3/64

"
Not Rated

3/4

"

5/8

"

1/8

"

3/16

"
Acetal Plastic

0000000
0000
A

3/64

"
Not Rated
1"

13/16

"

3/16

"

3/16

"
Acetal Plastic

0000000
0000
A

3/64

"
Not Rated
1

1/16

"

7/8

"

3/16

"

1/4

"
Acetal Plastic

0000000
0000
A

1/16

"
Not Rated
1

1/4

"
1

1/16

"

3/16

"

1/4

"
Acetal Plastic

0000000
0000
A

3/32

"
Not Rated
1

1/2

"
1

1/4

"

1/4

"

9/32

"
Acetal Plastic

0000000
0000
A

3/32

"
200
2

1/2

"
2

3/16

"

1/4

"

1/4

"
Nylon Plastic

0000000
0000
A

1/8

"
Not Rated
1

3/4

"
1

3/8

"

1/4

"

5/16

"
Acetal Plastic

0000000
0000
A

3/16

"
Not Rated
1

9/16

"
1

1/4

"

1/4

"

3/8

"
Acetal Plastic

0000000
0000
A

3/16

"
800
3"
2

1/2

"

1/2

"

7/16

"
Nylon Plastic

0000000
0000
A

3/16

"
800
3

1/2

"
3"

1/2

"

7/16

"
Nylon Plastic

0000000
00000
A

1/4

"
Not Rated
1

3/4

"
1

3/16

"

1/4

"

7/16

"
Nylon Plastic

00000000
0000
A

1/4

"
Not Rated
1

15/16

"
1

9/16

"

5/16

"

7/16

"
Acetal Plastic

0000000
0000
A

1/4

"
1,400
4"
3

3/8

"

3/4

"

1/2

"
Nylon Plastic

0000000
00000
A

1/4

"
1,400
4

1/2

"
3

7/8

"

3/4

"

1/2

"
Nylon Plastic

0000000
00000
A

1/4

"
1,400
5"
4

3/8

"

3/4

"

1/2

"
Nylon Plastic

0000000
00000
B

5/16

"
1,600
5

1/2

"
4

5/8

"

3/4

"

5/8

"
Nylon Plastic

0000000
00000
B

5/16

"
1,600
6"
5

1/4

"

3/4

"

5/8

"
Nylon Plastic

0000000
00000