SMC Modular

Compressed Air Filters for Particle Removal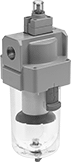 Extend the service life of air-powered tools and equipment by removing particles and water droplets from compressed air. Filters have a clear bowl so you can see inside to monitor contents.
Filters with an automatic drain are good for use in air lines with high water content.
Joiner clamps (sold separately) connect the filter to another SMC modular component with the same series number. They come with mounting brackets to attach the filter to a wall or equipment.
Series No. 20—NPT Female Inlet and Outlet
Mfr.


Series
Pipe
Size

Max.


Flow
Rate

Max.




Pressure,


psi
Removes Particle
Size Down


To,

microns
Includes

Ht.

Wd.

Each
Each

Polycarbonate Plastic

Bowl—

Clear with Automatic Drain

AF20-A

1/8

28 scfm @ 100 psi
145
5
Mounting Bracket
4

1/2

"
1

5/8

"
0000000
000000
000000
00000
AF20-A

1/4

53 scfm @ 100 psi
145
5
Mounting Bracket
3

7/8

"
1

5/8

"
00000000
00000
000000
0000

Polycarbonate Plastic

Bowl—

Clear with Manual Drain

AF20-A

1/4

53 scfm @ 100 psi
145
5
Mounting Bracket
3

7/8

"
1

5/8

"
00000000
00000
000000
0000
Series No. 40—NPT Female Inlet and Outlet
Mfr.


Series
Pipe
Size

Max.


Flow
Rate

Max.




Pressure,


psi
Removes Particle
Size Down


To,

microns
Includes

Ht.

Wd.

Each
Each

Polycarbonate Plastic

Bowl—

Clear with Automatic Drain

AF40-A

1/4

212 scfm @ 100 psi
145
5
Mounting Bracket
6

1/2

"
2

3/4

"
00000000
0000000
000000
00000

Polycarbonate Plastic

Bowl—

Clear with Manual Drain

AF40-A

1/4

212 scfm @ 100 psi
145
5
Mounting Bracket
6

1/2

"
2

3/4

"
00000000
00000
000000
0000