Choosing an Electrical Switch
Harsh Environment Potentiometers

Plastic
Rated NEMA 4X and 13, these potentiometers are protected from debris, washdowns, and oil/coolant spraying. Also known as variable output switches or rheostats, they vary electrical flow to control speed, volume, and light intensity.
Wattage
@
Voltage

Max.


Voltage
For Panel
Cutout


Dia.

Dp.


Behind
Panel

No.


of
Turns

Dia.

Material
Wire
Connection
Type
Environmental
Rating
Specifications
Met

Max.


Resistance
Each

Plastic

2 W @ 120 V AC/
2 W @ 24 V DC
500V AC/500V DC

7/8

" (22 mm)
2

1/4

"
1
1

1/8

"
Plastic
Screw Terminals
NEMA 4X, NEMA 13, IP65
UL Listed, C-UL Listed, CE Marked
2.5 kilohms
000000
000000
Variable-Speed

Foot Switches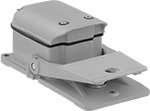 Iron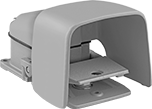 Iron with Guard
When the pedal is pressed, the built-in potentiometer adjusts the resistance to vary the speed for motor drives. These switches can be wired to either increase or decrease the current when actuated. All are rated NEMA 4 and 13 for protection from washdowns and oil/coolant spraying.
For technical drawings and 3-D models, click on a part number.
No.

of
Circuits
Controlled
Switch
Starting
Position
Switch
Action
Industry
Designation
Switching
Current @
Voltage

No.


of
Terminals

Quick-Disconnect


Tab

Wd.

Conduit
Trade
Size

Environmental
Rating
Fasteners
Included

No.


of
Holes
Hole


Dia.

Max.


Resistance
Each

With

Quick-Disconnect

Terminals

Iron Housing

1
1 Off (Normally Open) or 1 On (Normally Closed)

Springs Back (Momentary)

SPDT

15 A @ 125 V AC/250 V AC
3
0.187"

3/4

IP56
NEMA 4
NEMA 13
No
3
0.31"
2.5 kilohms
0000000
0000000

Iron Housing with Aluminum Guard

1
1 Off (Normally Open) or 1 On (Normally Closed)

Springs Back (Momentary)

SPDT

15 A @ 125 V AC/250 V AC
3
0.187"

3/4

IP56
NEMA 4
NEMA 13
No
3
0.31"
2.5 kilohms
0000000
000000