DFARS (Defense Acquisition Regulations Supplement)

DFARS

(Defense

Acquisition

Regulations

Supplement)
REACH (Registration, Evaluation, Authorization and Restriction of Chemicals)

REACH

(Registration,




Evaluation,

Authorization
and Restriction of

Chemicals)
RoHS (Restriction of Hazardous Substances)

RoHS

(Restriction

of
Hazardous

Substances)
Respirator Cleaning Kits
Disinfect and store full- and half-face respirators using these kits. Each time you clean a respirator, dissolve one dry-soap packet in a gallon of warm water on one side of the pail, then submerge your respirator for 10 minutes and remove any remaining dirt with the scrubbing brush. Rinse it in fresh water on the other side of the pail and let it air-dry in a clean environment. Blow any remaining water out of crevices in the respirator using the air bulb. Once it's clean and dry, put it in one of the storage bags to protect it from contamination until its next use.
The soap included in these kits won't damage any of your respirator's sensitive rubber components, but remove any cartridges and filters before cleaning.
These kits meet OSHA safety and health standards for respirator cleaning.
Cleaning kits and replacement dry soap packets cannot be sold outside of the United States due to regulatory limits on VOCs (volatile organic compounds).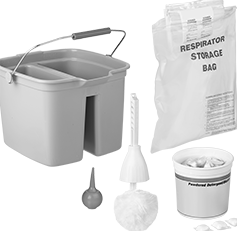 Full Kit
Includes
Specifications Met
Cannot Be Sold To
Each
1 Air Bulb
1 Pail with Two Compartments (4 1/4 gal)
1 Scrubbing Brush
100 Disposable Storage Bags (21" × 11")
90 Dry Soap Packets (1/2 oz.)
OSHA Compliant 29 CFR 1910.134
Outside United States
0000000
0000000
Replacement Disposable Storage Bags
Replacement Disposable Storage Bags
Replacement Dry Soap Packets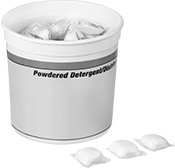 Replacement Dry Soap Packets
Container


Size,

fl.

oz.

Form
Cannot Be Sold To

Pkg.




Qty.

Pkg.

0.5
Powder
Outside United States
90
0000000
000000