External and Internal Spiral Retaining Ring Assortments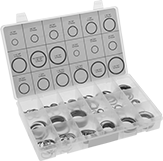 Wind these retaining rings into a groove—no tools required for installation. Rings make 360° of contact with the shaft, so there is no gap.
Oil-coated steel rings are corrosion resistant in dry environments.
18-8 stainless steel retaining rings are chemical resistant and may be mildly magnetic.
Number
of Pieces
Includes
Container
Type
Each

Inch

216
108 External Retaining Rings (For

1/2

" to 1

1/2

" OD)
108 Internal Retaining Rings (For

1/2

" to 1

1/2

" ID)
Plastic Box
000000000
0000000
216
108 External Retaining Rings (For

1/2

" to 1

1/2

" OD)
108 Internal Retaining Rings (For

1/2

" to 1

1/2

" ID)
Plastic Box
000000000
000000