18-8

Stainless Steel

Hex-Drive

Rivets

Installed
18-8 stainless steel has good corrosion resistance. Also known as fab-lock fasteners, these rivets consist of a sleeved screw with hex-washer head. The sleeve fans out when installed to resist vibration, expansion, and contraction.
Rivets install with a wrench and socket and require access to only one side of the material. For faster installation, use the tool for hex-drive rivets with an adjustable torque power driver (each sold separately).
For technical drawings and 3-D models, click on a part number.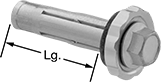 For
Material


Thick.

Lg.

For
Hole
Size
For
Drill
Bit Size
Head


Dia.

Head


Ht.

Thread
Size

Washer


Dia.

Shear


Strength,




lbs.

Tensile
Strength

Washer
Material
Sleeve
Material

Pkg.




Qty.

Pkg.

0.062"-0.25"
1.373"
0.313"

5/16

"
0.688"
0.375"
10-24

0.5"
1,950
Not Rated
EPDM Rubber
5052 Aluminum
5
000000000
000000
0.25"-0.5"
1.612"
0.313"

5/16

"
0.688"
0.375"
10-24

0.5"
1,950
Not Rated
EPDM Rubber
5052 Aluminum
5
000000000
00000
0.5"-0.75"
1.807"
0.313"

5/16

"
0.688"
0.375"
10-24

0.5"
1,950
Not Rated
EPDM Rubber
5052 Aluminum
5
000000000
00000