About Installing Blind Rivets
18-8

Stainless Steel

Wide-Thickness-Range

Domed Head Blind Rivets

Installed in a Range of Material Thicknesses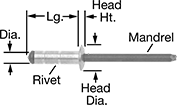 18-8 stainless steel has good corrosion resistance and may be mildly magnetic. These rivets grip a much wider range of material thicknesses than standard blind rivets. Use to join material when you only have access to one side. The low-profile domed head creates a finished appearance.
The combined thickness of material must fall within the rivet's material thickness range. Shear strength is the amount of force it takes to break a rivet from the side, and tensile strength is the amount of pull a rivet can withstand without breaking. Joint strength is also affected by rivet spacing and hole size.
A blind rivet tool (sold separately) with a nosepiece that matches the rivet's diameter is required for installation.
For technical drawings and 3-D models, click on a part number.
Dia.

For Material


Thick.

Lg.

For Hole
Size
For Drill
Bit Size
Head


Dia.

Head


Ht.

Shear


Strength,

lbs.

Tensile


Strength,




lbs.

Pkg.




Qty.

Pkg.

1/8

"
0.039"-0.236"
0.456"
0.13"-0.134"
No. 29
0.287"
0.04"
360
440
50
000000000
000000

5/32

"
0.079"-0.315"
0.515"
0.161"-0.165"
No. 20
0.323"
0.055"
560
720
50
000000000
00000

3/16

"
0.059"-0.354"
0.562"
0.193"-0.197"
No. 11
0.4"
0.063"
930
1,010
50
000000000
00000