Air-Powered

Hammer and Rivet Setter Kits for Solid Rivets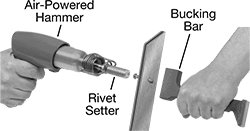 Kits include a hammer and round rivet setters. Also known as zip guns, use these air hammers and a rivet setting bit with a bucking bar (sold separately) to install solid rivets. Choose a rivet setter that matches the rivet's head style. As the tool strikes the rivet head, the back side of the rivet is hammered against the bucking bar, deforming the body and fastening your material. The tool can also be used as a chiseling air hammer when paired with chiseling bits. Stroke length determines the hammering power. The longer the stroke, the greater the power.
Style A also includes an air regulator.