About Installing Blind Rivets
Aluminum Domed Head Blind Rivets

Installed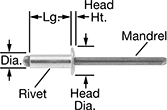 Made of aluminum, these blind rivets are lightweight and corrosion resistant. The domed head gives your project a finished appearance.
Use these blind rivets to fasten hinges, shelves, or other assemblies where you can only access one side. They're also commonly used to join metals that are difficult to solder or weld. For a permanent hold, the back of the rivet deforms to resist vibration and prevent overtightening and stripping.
To install these rivets, you'll need a blind rivet tool (sold separately). Be sure to pick a tool that's compatible with your rivet's diameter and material. For more information on installing rivets, see About Installing Blind Rivets.
Blind rivets that meet ISO 15981 (formerly DIN 7337) comply with international dimensional standards for blind rivets. Those that meet IFI 114 comply with industry standards.
For technical drawings and 3-D models, click on a part number.
For
Material


Thick.

Lg.

For
Hole
Size
For
Drill
Bit Size
Head


Dia.

Head


Ht.

Shear


Strength,




lbs.

Tensile


Strength,




lbs.

Specifications
Met

Pkg.




Qty.

Pkg.

0.032"-0.125"
0.25"
0.097"-0.1"
No. 41
0.198"
0.032"
70
80
IFI 114 Standards
250
000000000
000000
0.126"-0.25"
0.375"
0.097"-0.1"
No. 41
0.198"
0.032"
70
80
IFI 114 Standards
250
000000000
00000
0.251"-0.375"
0.5"
0.097"-0.1"
No. 41
0.198"
0.032"
70
80
IFI 114 Standards
250
000000000
00000
0.032"-0.062"
0.212"
0.129"-0.133"
No. 30
0.262"
0.04"
120
150
IFI 114 Standards
250
000000000
00000
0.063"-0.125"
0.275"
0.129"-0.133"
No. 30
0.262"
0.04"
120
150
IFI 114 Standards
250
000000000
0000
0.126"-0.187"
0.337"
0.129"-0.133"
No. 30
0.262"
0.04"
120
150
IFI 114 Standards
250
000000000
0000
0.188"-0.25"
0.4"
0.129"-0.133"
No. 30
0.262"
0.04"
120
150
IFI 114 Standards
250
000000000
00000
0.251"-0.312"
0.462"
0.129"-0.133"
No. 30
0.262"
0.04"
120
150
IFI 114 Standards
250
000000000
00000
0.313"-0.375"
0.525"
0.129"-0.133"
No. 30
0.262"
0.04"
120
150
IFI 114 Standards
250
000000000
00000
0.376"-0.5"
0.65"
0.129"-0.133"
No. 30
0.262"
0.04"
120
150
IFI 114 Standards
250
000000000
00000
0.501"-0.625"
0.775"
0.129"-0.133"
No. 30
0.262"
0.04"
120
150
IFI 114 Standards
250
000000000
00000
0.626"-0.75"
0.9"
0.129"-0.133"
No. 30
0.25"
0.036"
120
150
IFI 114 Standards
50
000000000
0000
0.751"-0.875"
1.125"
0.129"-0.133"
No. 30
0.25"
0.036"
120
150
IFI 114 Standards
50
000000000
0000
0.063"-0.125"
0.3"
0.16"-0.164"
No. 20
0.328"
0.05"
190
230
IFI 114 Standards
250
000000000
00000
0.126"-0.187"
0.362"
0.16"-0.164"
No. 20
0.328"
0.05"
190
230
IFI 114 Standards
250
000000000
00000
0.188"-0.25"
0.425"
0.16"-0.164"
No. 20
0.328"
0.05"
190
230
IFI 114 Standards
250
000000000
00000
0.251"-0.375"
0.55"
0.16"-0.164"
No. 20
0.328"
0.05"
190
230
IFI 114 Standards
250
000000000
00000
0.376"-0.5"
0.675"
0.16"-0.164"
No. 20
0.328"
0.05"
190
230
IFI 114 Standards
100
000000000
0000
0.063"-0.125"
0.325"
0.192"-0.196"
No. 11
0.394"
0.063"
260
320
IFI 114 Standards
100
000000000
0000
0.126"-0.25"
0.45"
0.192"-0.196"
No. 11
0.394"
0.063"
260
320
IFI 114 Standards
100
000000000
0000
0.251"-0.375"
0.575"
0.192"-0.196"
No. 11
0.394"
0.063"
260
320
IFI 114 Standards
100
000000000
0000
0.376"-0.5"
0.7"
0.192"-0.196"
No. 11
0.394"
0.063"
260
320
IFI 114 Standards
100
000000000
00000
0.501"-0.625"
0.825"
0.192"-0.196"
No. 11
0.394"
0.063"
260
320
IFI 114 Standards
100
000000000
00000
0.626"-0.75"
0.95"
0.192"-0.196"
No. 11
0.394"
0.063"
260
320
IFI 114 Standards
100
000000000
00000
0.751"-0.875"
1.075"
0.192"-0.196"
No. 11
0.375"
0.053"
260
320
IFI 114 Standards
50
000000000
0000
0.876"-1"
1.2"
0.192"-0.196"
No. 11
0.394"
0.063"
260
320
IFI 114 Standards
50
000000000
0000
1.001"-1.125"
1.325"
0.192"-0.196"
No. 11
0.375"
0.053"
260
320
IFI 114 Standards
25
000000000
0000
1.126"-1.25"
1.45"
0.192"-0.196"
No. 11
0.375"
0.053"
260
320
IFI 114 Standards
25
000000000
0000
0.063"-0.25"
0.5"
0.257"-0.261"
F
0.525"
0.08"
460
560
IFI 114 Standards
50
000000000
00000
0.251"-0.375"
0.625"
0.257"-0.261"
F
0.525"
0.08"
460
560
IFI 114 Standards
50
000000000
00000
0.376"-0.5"
0.75"
0.257"-0.261"
F
0.525"
0.08"
460
560
IFI 114 Standards
50
000000000
00000
0.501"-0.625"
0.875"
0.257"-0.261"
F
0.525"
0.08"
460
560
IFI 114 Standards
50
000000000
00000
0.626"-0.75"
1"
0.257"-0.261"
F
0.525"
0.08"
460
560
IFI 114 Standards
50
000000000
00000
0.751"-0.875"
1.125"
0.257"-0.261"
F
0.525"
0.08"
460
560
IFI 114 Standards
50
000000000
00000
0.876"-1"
1.25"
0.257"-0.261"
F
0.5"
0.069"
460
560
IFI 114 Standards
25
000000000
00000
For
Material


Thick.

Lg.

For
Hole
Size
For
Drill
Bit Size
Head


Dia.

Head


Ht.

Shear


Strength,




lbs.

Tensile


Strength,




lbs.

Specifications
Met

Pkg.




Qty.

Pkg.

0.032"-0.125"
0.25"
0.097"-0.1"
No. 41
0.198"
0.032"
120
170
IFI 114 Standards
250
000000000
000000
0.126"-0.25"
0.375"
0.097"-0.1"
No. 41
0.198"
0.032"
120
170
IFI 114 Standards
250
000000000
00000
0.251"-0.375"
0.5"
0.097"-0.1"
No. 41
0.188"
0.028"
120
170
IFI 114 Standards
50
000000000
0000
0.032"-0.062"
0.212"
0.129"-0.133"
No. 30
0.262"
0.04"
170
220
IFI 114 Standards, MIL-R-24243/1-A401
250
000000000
0000
0.063"-0.125"
0.275"
0.129"-0.133"
No. 30
0.262"
0.04"
170
220
IFI 114 Standards, MIL-R-24243/1-A402
250
000000000
0000
0.126"-0.187"
0.337"
0.129"-0.133"
No. 30
0.262"
0.04"
170
220
IFI 114 Standards, MIL-R-24243/1-A403
250
000000000
0000
0.188"-0.25"
0.4"
0.129"-0.133"
No. 30
0.262"
0.04"
170
220
IFI 114 Standards, MIL-R-24243/1-A404
250
000000000
0000
0.251"-0.312"
0.462"
0.129"-0.133"
No. 30
0.262"
0.04"
170
220
IFI 114 Standards, MIL-R-24243/1-A405
250
000000000
00000
0.313"-0.375"
0.525"
0.129"-0.133"
No. 30
0.262"
0.04"
170
220
IFI 114 Standards, MIL-R-24243/1-A406
250
000000000
00000
0.376"-0.5"
0.65"
0.129"-0.133"
No. 30
0.262"
0.04"
170
220
IFI 114 Standards, MIL-R-24243/1-A408
100
000000000
0000
0.501"-0.625"
0.775"
0.129"-0.133"
No. 30
0.262"
0.04"
170
220
IFI 114 Standards
100
000000000
0000
0.626"-0.75"
0.9"
0.129"-0.133"
No. 30
0.262"
0.04"
170
220
IFI 114 Standards
100
000000000
0000
0.063"-0.125"
0.3"
0.16"-0.164"
No. 20
0.328"
0.05"
260
350
IFI 114 Standards, MIL-R-24243/1-A502
250
000000000
0000
0.126"-0.187"
0.362"
0.16"-0.164"
No. 20
0.328"
0.05"
260
350
IFI 114 Standards, MIL-R-24243/1-A503
250
000000000
00000
0.188"-0.25"
0.425"
0.16"-0.164"
No. 20
0.328"
0.05"
260
350
IFI 114 Standards, MIL-R-24243/1-A504
250
000000000
00000
0.251"-0.375"
0.55"
0.16"-0.164"
No. 20
0.328"
0.05"
260
350
IFI 114 Standards, MIL-R-24243/1-A506
250
000000000
00000
0.376"-0.5"
0.675"
0.16"-0.164"
No. 20
0.328"
0.05"
260
350
IFI 114 Standards, MIL-R-24243/1-A508
250
000000000
00000
0.501"-0.625"
0.8"
0.16"-0.164"
No. 20
0.312"
0.043"
260
320
IFI 114 Standards
50
000000000
00000
0.063"-0.125"
0.325"
0.192"-0.196"
No. 11
0.394"
0.063"
380
500
IFI 114 Standards, MIL-R-24243/1-A602
250
000000000
00000
0.126"-0.25"
0.45"
0.192"-0.196"
No. 11
0.394"
0.063"
380
500
IFI 114 Standards
250
000000000
00000
0.251"-0.375"
0.575"
0.192"-0.196"
No. 11
0.394"
0.063"
380
500
IFI 114 Standards, MIL-R-24243/1-A606
250
000000000
00000
0.376"-0.5"
0.7"
0.192"-0.196"
No. 11
0.394"
0.063"
380
500
IFI 114 Standards, MIL-R-24243/1-A608
250
000000000
00000
0.501"-0.625"
0.825"
0.192"-0.196"
No. 11
0.394"
0.063"
380
500
IFI 114 Standards, MIL-R-24243/1-A610
100
000000000
0000
0.626"-0.75"
0.95"
0.192"-0.196"
No. 11
0.394"
0.063"
380
500
IFI 114 Standards, MIL-R-24243/1-A612
100
000000000
00000
0.751"-0.875"
1.075"
0.192"-0.196"
No. 11
0.394"
0.063"
380
500
IFI 114 Standards
100
000000000
00000
0.876"-1"
1.2"
0.192"-0.196"
No. 11
0.394"
0.063"
380
500
IFI 114 Standards, MIL-R-24243/1-A616
100
000000000
00000
0.985"-1.181"
1.417"
0.201"-0.204"
No. 7
0.394"
0.063"
380
500
__
25
000000000
00000
1.182"-1.338"
1.614"
0.201"-0.204"
No. 7
0.394"
0.063"
380
500
__
25
000000000
00000
1.378"-1.535"
1.811"
0.201"-0.204"
No. 7
0.394"
0.063"
380
500
__
25
000000000
00000
1.575"-1.732"
2.008"
0.201"-0.204"
No. 7
0.394"
0.063"
380
500
__
25
000000000
00000
0.063"-0.25"
0.5"
0.257"-0.261"
F
0.525"
0.08"
700
920
IFI 114 Standards, MIL-R-24243/1-A804
100
000000000
00000
0.251"-0.375"
0.625"
0.257"-0.261"
F
0.525"
0.08"
700
920
IFI 114 Standards, MIL-R-24243/1-A806
100
000000000
00000
0.376"-0.5"
0.75"
0.257"-0.261"
F
0.525"
0.08"
700
920
IFI 114 Standards, MIL-R-24243/1-A808
100
000000000
00000
0.501"-0.625"
0.875"
0.257"-0.261"
F
0.525"
0.08"
700
920
IFI 114 Standards, MIL-R-24243/1-A810
100
000000000
00000
0.626"-0.75"
1"
0.257"-0.261"
F
0.525"
0.08"
700
920
IFI 114 Standards, MIL-R-24243/1-A812
100
000000000
00000
0.751"-0.875"
1.125"
0.257"-0.261"
F
0.525"
0.08"
700
920
IFI 114 Standards
50
000000000
00000
0.876"-1"
1.25"
0.257"-0.261"
F
0.525"
0.08"
700
920
IFI 114 Standards
50
000000000
00000
1.001"-1.125"
1.375"
0.257"-0.261"
F
0.5"
0.069"
700
920
IFI 114 Standards
25
000000000
00000
For Material


Thick.,

mm

Lg.,


mm
For Hole


Size,

mm
For Drill
Bit Size
Head


Dia.,


mm
Head


Ht.,


mm
Shear


Strength,




lbs.

Tensile


Strength,




lbs.

Specifications
Met

Pkg.




Qty.

Pkg.

1.5-3.5
6.1
3.2-3.3
3.2 mm
6.5
0.8
110
150
DIN 7337, ISO 15981
50
000000000
000000
3.5-5.5
8
3.2-3.3
3.2 mm
6.5
0.8
110
150
DIN 7337, ISO 15981
10
000000000
00000
5.5-7
10
3.2-3.3
3.2 mm
6.5
0.8
110
150
DIN 7337, ISO 15981
5
000000000
0000
7-9
12.3
3.2-3.3
3.2 mm
6.5
0.8
110
150
DIN 7337, ISO 15981
25
000000000
0000
9.5-12.5
16
3.2-3.3
3.2 mm
6.5
0.8
110
150
DIN 7337, ISO 15981
5
000000000
00000
1.5-3
6.6
4-4.1
4 mm
8
1
190
220
DIN 7337, ISO 15981
10
000000000
00000
5-6.5
10
4-4.1
4 mm
8
1
190
220
DIN 7337, ISO 15981
25
000000000
0000
6.5-8.5
12.9
4-4.1
4 mm
8
1
190
220
DIN 7337, ISO 15981
5
000000000
0000
8.5-12.5
16.1
4-4.1
4 mm
8
1
190
220
DIN 7337, ISO 15981
10
000000000
0000
3.5-5.5
8
4.8-4.9
4.8 mm
9.5
1.1
260
310
DIN 7337, ISO 15981
5
000000000
0000
4.5-6
10.3
4.8-4.9
4.8 mm
9.5
1.1
260
310
DIN 7337, ISO 15981
25
000000000
00000
6-8
13.5
4.8-4.9
4.8 mm
9.5
1.1
260
310
DIN 7337, ISO 15981
1
000000000
0000
8-12
16.7
4.8-4.9
4.8 mm
9.5
1.1
260
310
DIN 7337, ISO 15981
10
000000000
0000