About Installing Blind Rivets
Blind Rivets for Wood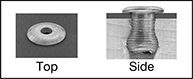 Installed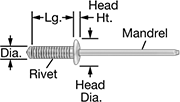 An alternative to wood screws, these rivets have a grooved body that expands during installation, digging into the wood and creating a secure hold. They are for use in closed-end holes. Made of aluminum, rivets are lightweight, nonmagnetic, and have good corrosion resistance. They join material when you only have access to one side. A low-profile domed head creates a finished appearance.
A blind rivet tool (sold separately) with a nosepiece that matches the rivet's diameter is required for installation.
For technical drawings and 3-D models, click on a part number.
For

Min.


Hole


Dp.

Lg.

For
Hole
Size
For
Drill
Bit Size
Head


Dia.

Head


Ht.

Shear
Strength
Tensile
Strength

Material

Pkg.




Qty.

Pkg.

Steel Mandrel

0.482"
0.382"
0.138"
No. 29
0.25"
0.043"
Not Rated
Not Rated
5000 Series Aluminum
100
000000000
000000
0.433"
0.315"
0.169"
No. 18
0.313"
0.039"
Not Rated
Not Rated
5154 Aluminum
100
000000000
00000
0.591"
0.472"
0.169"
No. 18
0.313"
0.039"
Not Rated
Not Rated
5154 Aluminum
100
000000000
00000
0.433"
0.315"
0.2"
No. 5
0.375"
0.043"
Not Rated
Not Rated
5154 Aluminum
50
000000000
0000
0.591"
0.472"
0.2"
No. 5
0.375"
0.043"
Not Rated
Not Rated
5154 Aluminum
50
000000000
0000
0.669"
0.551"
0.2"
No. 5
0.375"
0.043"
Not Rated
Not Rated
5154 Aluminum
50
000000000
00000
0.691"
0.591"
0.205"
No. 5
0.375"
0.063"
Not Rated
Not Rated
5000 Series Aluminum
50
000000000
00000