Cordless Tools for Blind Rivets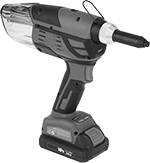 With no air hose to limit mobility, this tool installs rivets anywhere. It has changeable nosepieces—use the nosepiece that matches your rivet's diameter. The higher the pull capacity, the larger the rivet diameter the tool can install.
To install a rivet, insert the mandrel into the nosepiece of the tool. Place the rivet in the material and pull the trigger. The tool pulls the mandrel through the rivet's body, creating a secure hold on both sides of the material, and breaks off the excess mandrel.
Tools that cannot be sold to the regions listed are restricted by local energy efficiency requirements.
Tool with 2,360-lb. Pull Capacity

Stroke


Lg.

Estimated

Max.


Rivets Installed
per Charge
Charging


Time,




min.

Dia.

Lg.

Lg.

Ht.

Batteries
Included
Battery
Voltage
Battery
Chemistry
Includes
Each
1"
1,200
40

53/64

"
2

1/2

"
12"
10

1/4

"
Yes
18V
Lithium Ion (Li-Ion)
Four nosepieces (

3/32

",

1/8

",

5/32

", and

3/16

")
Battery Charger
000000000
000000000
Tool with 4,400-lb. Pull Capacity

Stroke


Lg.

Estimated

Max.


Rivets Installed
per Charge
Charging


Time,




min.

Dia.

Lg.

Lg.

Ht.

Batteries
Included
Battery
Voltage
Battery
Chemistry
Includes
Cannot
Be
Sold To
Each
1

3/16

"
1,000
30

29/32

"
3

1/4

"
12

3/8

"
12

3/4

"
Yes
20V
Lithium Ion (Li-Ion)
Three nosepieces (

5/32

",

3/16

", and

1/4

")
Battery Charger
CA, Canada
00000000
000000000