How to

Identify and Measure Fittings
Pipe size is an industry designation, not the actual size. View information about how to measure threaded and unthreaded pipe and pipe fittings.
High-Polish

Metal

Quick-Clamp

Sanitary Tube Fittings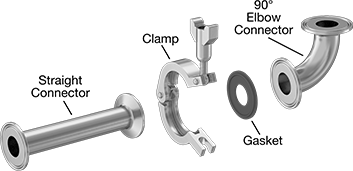 Temperature

Range:

See Gaskets
The smooth finish inside these fittings makes it easy to remove product residue. Also known as aseptic and tri-clamp fittings, they connect with a gasket, a clamp, and another quick-clamp fitting for a fast and easy way to access your line. The pressure rating of the fitting will vary depending on the clamp you choose, and the temperature rating will vary based on the gasket material you choose.
316 stainless steel fittings have excellent corrosion resistance.
Note: To complete a connection, you'll need two quick-clamp fittings, a clamp, and a gasket (all sold separately).
For technical drawings and 3-D models, click on a part number.